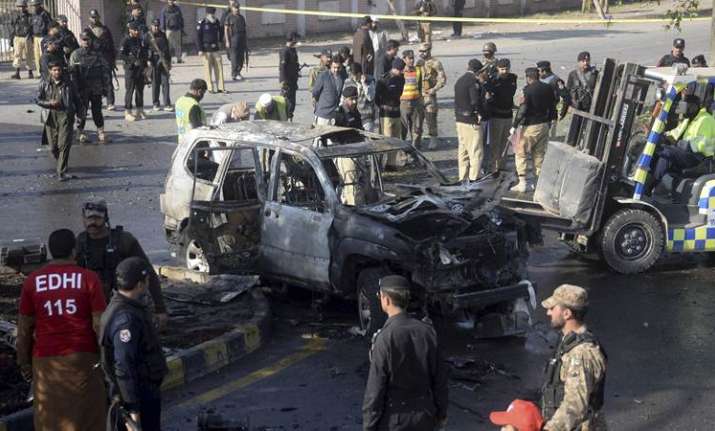 The violent clashes between security forces and religious demonstrators across Pakistan on Saturday, which came a day after JuD chief Hafiz Saeed's release from house arrest, not only shows its government's helplessness in front of the Pak Army, but also indicates that the country is perhaps on the cusp of a major power transition in the country.
About 2,000 activists of Tehreek-i-Khatm-i-Nabuwwat, Tehreek-i-Labaik Ya Rasool Allah (TLYR) and the Sunni Tehreek Pakistan (ST) for more than two weeks have been blocking the Islamabad Expressway and Murree Road that connect Islamabad with its only airport and the garrison city of Rawalpindi. 
The protesters are demanding the resignation of law minister Zahid Hamid for changes made to Khatm-i-Nabuwwat or finality of prophethood oath in the Elections Act 2017 passed in September. 
The demonstration was initiated by a small Islamic organisation named TLP on November 6. However, with government's inaction, the demonstration turned into nationwide protests with the protesters blocking main highways leading to the capital Islamabad. 
At least one security person was killed and over 150 people, including protesters and security personnel, were injured today.
According to a security official, more than 8,000 security personnel took part in the operation against around 2,000 protesters.
The intensity of the situation can be visualised from the fact that the Pakistan government has banned media coverage of the protests, and has blocked social media sites like Facebook, Twitter and YouTube amidst ongoing operation against protesters.
In recent days, as hundreds of thousands of people have been prevented from getting to work, school and home by the traffic snarls, the Abbasi government has attempted to negotiate with the protest leaders, fearing a major confrontation.
Whatever the ground reality may be, but the release of Hafiz Saeed and the cancellation of his press conference, followed by the growing activeness of ISI and Pakistan Army, are giving hints that a military coup may take place there, and Hafiz Saeed might play a key role in the country in coming days.