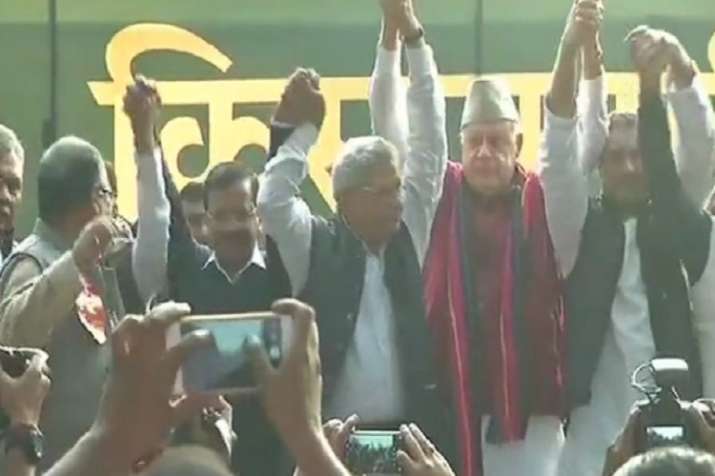 Thousands of farmers arrived at the national capital chanting "Dilli chalo" on Friday and took out a Kisan Mukti March, demanding that the government bring in legislation for a guaranteed minimum support price (MSP) for their produce and freedom from debts.
At a protest meet in Delhi's Jantar Mantar, various Opposition leaders including Congress chief Rahul Gandhi, AAP's Arvind Kejriwal, and CPI(M) chief Sitaram Yechury joined hands to criticise the anti-farmer policies of Narendra Modi-led NDA government.
The march was organised under the banner of the All-India Kisan Sangharsh Coordination Committee (AIKSCC), a platform of 200 farmers' groups. Farmers from different parts of the country, including Andhra Pradesh, Telangana, Gujarat, Madhya Pradesh, Maharashtra, Tamil Nadu, West Bengal, Punjab and Uttar Pradesh took part in the rally.
Also Read: Delhi Kisan March throws traffic out of gear
Congress president Rahul Gandhi also joined the protest and warned that the farmers and the youth of the country will throw out the Modi government if they are insulted.
IHe added that the farmers were not seeking a "free gift" from the government by asking for a farm loan waiver. They were only asking for what's due to them, the Congress chief asserted. 
"If this government can waive Rs 3.5 lakh crore loans of 15 big industrialists, why can't the loans of crores of farmers in the country be waived?" he asked. 
Watch: Rahul Gandhi addresses farmers rally in Delhi
Addressing the rally, Delhi Chief Minister Arvind Kejriwal said that the Modi government has stabbed farmers in the back by telling the Supreme Court that it cannot implement recommendations of the M.S. Swaminathan Commission which the BJP promised to do so in 2014.
 NCP chief Sharad Pawar, who also joined the protest, said that his party will support the agitation until the demands of the farmers are met.
"Farmers of the country are suffering . The government has no sympathies for them. The government is not ready to pay them remuneration. We are here to wake the government up and ask them to take steps to resolve farmers' issues or else we will throw them out in 2019. We will support the agitation unless the bills are passed in the parliament," Pawar said.
CPI(M) leader Sitaram Yechury also addressed the rally and alleged that the BJP, PM Modi and RSS have only one weapon in hand and that is Ram temple.
" As the elections are approaching, they have started chanting 'Ram Ram'," Yechury said.
HIGHLIGHTS
04:26 pm: Opposition show of unity at farmers' rally in New Delhi .
Opposition leaders including Rahul Gandhi, Arvind Kejriwal and Farooq Abdullah at farmers protest in Delhi pic.twitter.com/ThHeMKGrpm

— ANI (@ANI) November 30, 2018
04:24 pm: Kejriwal also said that farm loans have to be waived, adding that the crop insurance policy floated by the government is "fraud".
04:01 pm: Five months are left, I demand that the Central Govt implements Swaminathan report, says Delhi CM Arvind Kejriwal
03:58 pm: If the govt insults farmers and youth, they will ensure its removal: Cong chief Rahul Gandhi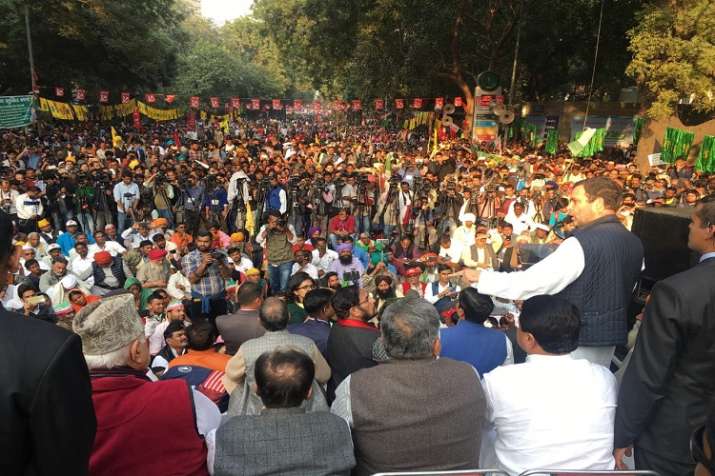 03:55 pm: If the loans of industrialists can be waived off, then the debt of farmers must be waived off as well. I assure the farmers of India, we are with you, don't feel afraid: Rahul Gandhi
03:53 pm: Modi ji had promised MSP will be increased, PM promised bonus, but look at the situation right now, empty speeches are being given and nothing else
03:50 pm: Change the government, if the govt does not listen to your demand: Rahul Gandhi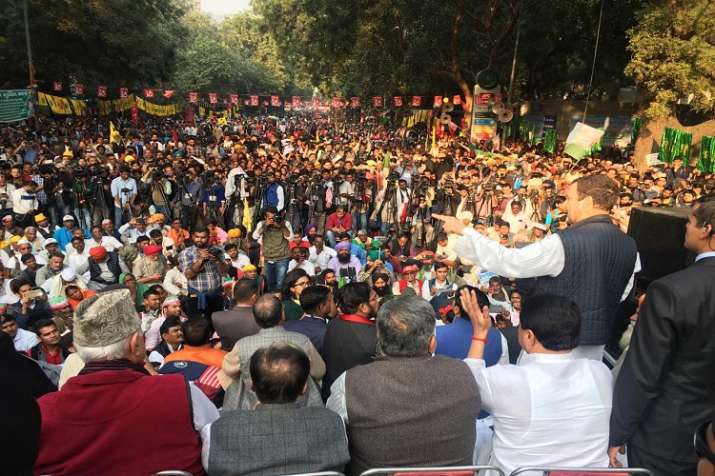 03:49 pm: Govt must waive loans of farmers, says Rahul Gandhi
03:48 pm: Congress president Rahul Gandhi addresses farmers rally in Delhi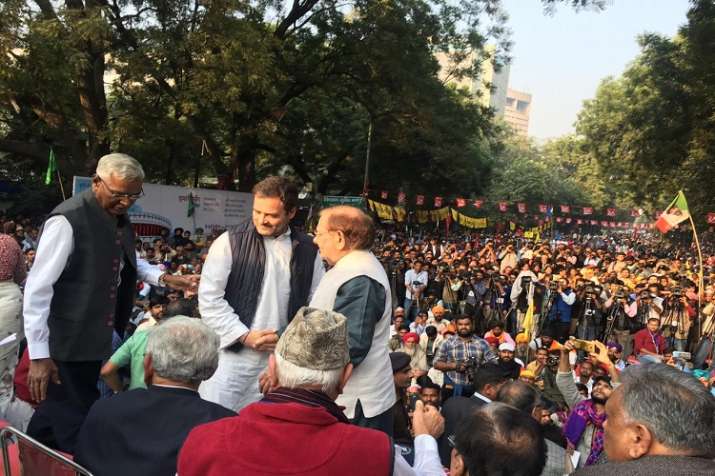 03:32 pm: No growth in agrarian sector under BJP rule. Slide in agriculture has been in a downward spiral, which has led to farmers' suicides: Sitaram Yechury
03:30 pm: We should rise above BJPs divisive politics and be united for speaking about farmers: Sitaram Yechury
03:21 pm: Govt will be thrown out if problems of farmers are not solved: Sharad Pawar
03:19 pm: Farmers of the country are suffering . The government has no sympathies for them. The government is not ready to pay them remuneration: Sharad Pawar
Nine police companies, along with 71 officers, from the rank of inspectors up to additional DCPs, are also present at the spot. "In addition, special reserves have been kept at important police stations. Arrangements will be supervised by the two special commissioners of police (Law and Order) and the joint commissioner of police of all the ranges," the officer had said. There will be a rope on both the sides of the marching farmers with the police walking on the other side of the rope to ensure traffic is not affected, police had said, adding that they will ensure minimum inconvenience is caused to commuters.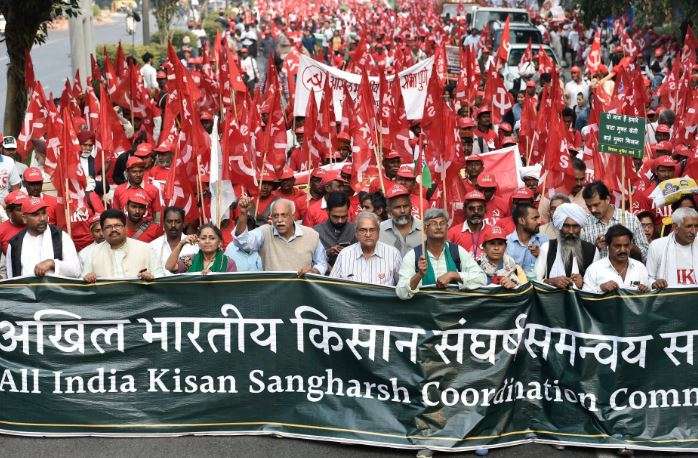 HERE'S HOW FARMERS BRAVED COLD WEATHER AT RAMLILA GROUND: 
Earlier on Thursday night, farmers were seen raising chants of 'Jai Jawan, Jai Kisan' at the historic Ramlila Ground while braving cold weather.
Kartar Singh, 50, a sugarcane farmer from Sambal district, Uttar Pradesh, is anxious about the march and cannot sleep, but he's not complaining.
"We have not come here to sleep. Farmers have converged in Delhi to remind the Union government that the party leading it had made promises of waiving off loans in its manifesto. And, its been four and a half years since they came to power," he said, with an edge of anger in his voice.
Singh, a father of two sons is from Fatehpur Sarai village and, his younger son (22 years) has taken the field work while he is away.
"My wife and children have told me, that I should fight and stay even for a week in Delhi, if needed," he told PTI.
Inside the tents, farmers, both men and women, from all parts of India try to sleep in a chilly night, while many sat huddled together, discussing the next strategy and family issues.
But, a group of volunteers, belonging to welfare organisation 'Khudai Khidmatgar' are trying to offer some comfort to these wearied farmers in the cold weather.
Shahjeb Jamal, a civil engineering student at Jamia Islamia and a volunteer with the group is lugging around a steel container and a hands out paper cups to farmers as they huddle around.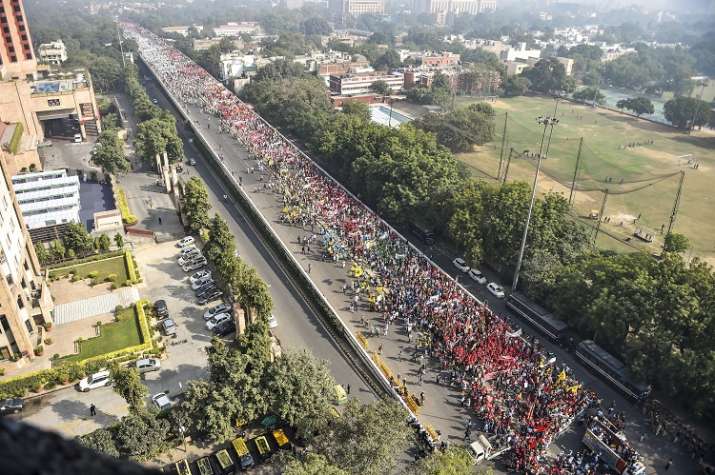 "Our organisation's philosophy as envisioned by its founder Khan Abdul Ghaffar Khan, is service and public harmony, and so we are here. We Stand its the farmers," he said.
Jamal said Friday morning another batch of volunteers would be coming to offer tea and some breakfast to them.
A group of 25-30 doctors also offered medical aid till about 11 pm, some of them took off from work to volunteer.
Rashid, a junior resident at AIIMS was among the doctor's volunteers who attended to people till night.
"I took an off today from work, as I had to be here. They feed us, and we are not doing any favour by helping them, we are serving them," he told PTI.
Doctors also came from Aligarh Muslim university and Rohtak and Chandigarh and other Delhi hospitals to assist farmers, many of whom complained of body ache as they had travelled long distance.
"One person had fainted, so, after first aid, we sent him to LNJP Hospital," said Mahtab Alam, a doctor at a Delhi government hospital.
The historic ground, known for hosting big political events over the years, resonated with slogans like 'Ayodhya nahi, karz maafi chahiye' earlier in the day. 
ROUTE OF THE MARCH, TRAFFIC MOVEMENT LIKELY TO BE AFFECTED
Banded under the All India Kisan Sangharsh Coordination Committee (AIKSCC), which claims to be an umbrella body of 207 organisations of farmers and agricultural workers, many of the farmers have come in trains and others packed into buses and other modes of transport.
They have arrived from different corners of the country, including Andhra Pradesh, Gujarat, Madhya Pradesh, Maharashtra, Tamil Nadu, West Bengal and Uttar Pradesh.
The march to Jantar Mantar will start from 9 am. The route of the march will be via Guru Nanak Chowk – Ranjit Singh Flyover- Tolstoy Marg, police said.
Therefore, traffic is likely to be affected on roads surrounding the Ramlila ground, Jawaharlal Nehru Marg, Deshbandhu Gupta Road, Rani Jhansi Road, Mandir Marg, Panchkuian Road, Barakhamba Road, Kasturba Gandhi Marg, Janpath, Ashoka Road, Ferozshah Road, Baba Kharak Singh Marg and Jai Singh Road and inner and outer circles of Connaught Place, Joint Commissioner of Police (Traffic) Alok Kumar said.
Commuters going towards New Delhi railway station are advised to keep this factor in view while planning their journey, he said.
Traffic diversions will be effected depending upon the live traffic situation. Citizens are advised to follow the Delhi Traffic Police Facebook page, Twitter handle, WhatsApp and the traffic helpline for live updates, Kumar said.
On Thursday, traffic was affected at Dhaula Kuan, Sardar Patel Marg, Mother Teresa Crescent, Connaught Place Outer Circle, Minto Road.
The roads around Anand Vihar, Vikas Marg, Rajghat, Jawaharlal Nehru Marg were also affected due to the march. 
FULL VIDEO:
(With PTI inputs)