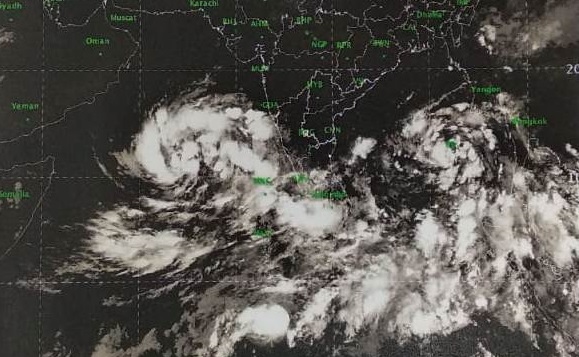 Heavy rains have been forecast in Kerala, under the influence of a depression over Arabian Sea which is likely to intensify into a deep depression and further into a cyclonic storm over the next two days.
The depression over southeast and adjoining eastcentral Arabian Sea moved further west-north westward and lay centred Sunday about 1,340 km east-southeast of Salalah (Oman), 1,250 km east-south east of Socotra Islands (Yemen) and 940 km west-northwest of Minicoy (Lakshadweep Islands), a release from IMD office in Thiruvananthapuram said.
It is very likely to intensify further into a deep depression during next 12 hours and into a cyclonic storm during subsequent 24 hours, the release said.
The system was expected to move west-north westwards towards South Oman and adjoining Yemen coast in next five days.
Rainfall at most places with heavy spells at isolated areas is very likely to occur in Kerala during next 48 hours, the release added.
Squally wind speed reaching 40-50 kmph gusting to 60 kmph is very likely over Lakshadweep and southeast Arabian Sea during next 24 hours and over eastcentral Arabian Sea during next 48 hours, the release added.
The Kerala government has stepped up its vigil in view of the possibility of heavy rains. Indian Coast Guard has formed disaster response teams at Kochi and Gemini life boats have been kept on stand by for deployment at short notice. 
The coast guard has deployed ships in the choppy water to broadcast warnings and advice fishermen at sea to return to harbour to avoid weather disruptions caused by depression over south-east and adjoining east-central Arabian sea. 
Also read | Kerala: Govt steps up vigil as depression in Arabian Sea likely to intensify into cyclonic storm
"Rough to Very Rough sea prevails over South East Arabian Sea while system moves in NWly direction @IndiaCoastGuard coordinates with Rescue coordination centre of #Muscat #Oman #Sanaa & #Yemen to assist Indian Fishing Boats & Dhows in their respective #SAR Regions @DefenceMinIndia," Indian Coast Guard's official handle tweeted today. 
Kerala had been devastated by floods in August this year leaving a trail of unprecedented destruction and had forced people to take refuge in relief camps.
The South-west monsoon had claimed 493 lives in the floods, the worst in the last 100 years. 
Also read | Cyclonic storm expected in Arabian sea: Indian Coast Guard formations on high alert, fisherman at sea warned to return ashore
(With inputs from PTI)