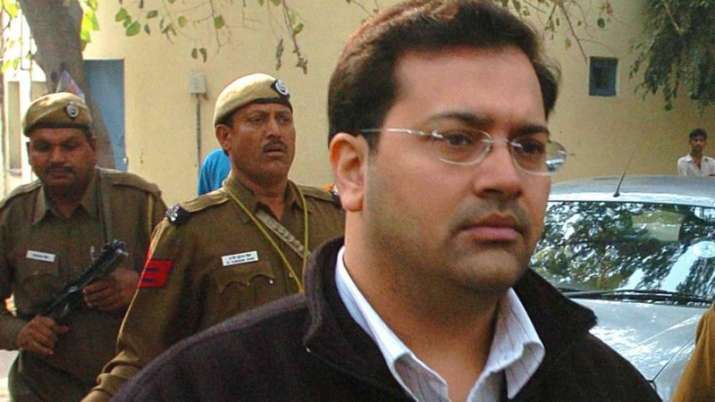 Lieutenant Governor Anil Baijal and senior government officials will on Tuesday decide the fate of around 40-50 prisoners, including Manu Sharma, the prime accused in the high-profile Jessica Lal murder case.
These prisoners are those who have either served their time in prison or are up for an early release. 
According to the Tihar Jail authorities, Delhi government rules permit a murder convict undergoing a life sentence to approach a review board to seek 'premature release'.    
"But such application can be made only after undergoing actual imprisonment for a minimum of 14 years without remission, or 20 years with remission, depending on the case. The review board, however, has to consider the circumstances in which the crime was committed and possibility of the convict reclaiming his life as a useful member of society," an official said.
On April 30, 1999, Manu Sharma (real name Siddhartha Vashishta) fatally shot Jessica when she refused to serve him drink well past midnight at a party in south Delhi's Mehrauli.
The Delhi high court had in December 2006 reversed a trial court acquittal of February 2006 and sentenced Manu Sharma to life term. The Supreme Court two months later upheld the HC verdict.
The convicts' fate will be decided by the Delhi LG after the jail's Sentence Review Board (SRB) submits a report. 
"It is up to the SRB meeting of seven to eight high-rank officials, chaired by Minister Satyendar Jain. The SRB will examine the case of 40-50 prisoners along with Manu Sharma, their police reports and social welfare reports to take a final decision.
"Even if the SRB approves a prisoner's release, a report is sent to the Lieutenant Governor for final decision. The L-G reserves the right to turn down even the SRB report," the official said.
Jail authorities said about three months ago, Manu Sharma was shifted to the open prison, which he is allowed to leave at 8 a.m. and return by 6 p.m. every day, which can pave way for his final release after 15 years in prison.
Jail officials said the convicts after serving at least 12 years of jail term are first transferred to a semi-open jail and thereafter are eligible for transfer to the open jail.
While semi-open jail inmates are allowed to work and move freely within the jail complex, those in open jail are allowed to go out for work. Both categories of inmates live in rooms instead of barracks.
The meeting comes a month after Jessica's sister Sabrina Lal wrote to Tihar jail authorities that she had "forgiven" her killer Manu Sharma and had no "objection" if he was released from the jail.
Sabrina Lal had written a letter to prison Welfare Officer that her family wants to lead a normal life and has no objection if Manu Sharma, sentenced to undergo life imprisonment for murder, is released from the Tihar Central Jail here.
"I have eradicated all anger within me and want to move ahead to live a normal life. I have no problem if Manu Sharma is released, or whatever deal he gets," Sabrina said in the letter. 
Sabrina said that she had received a letter from Tihar authorities a month ago in which she was asked if she wished to draw money from the victim's welfare fund.
"I said that I did not need money, and I had no objection to his release," she said.
A jail official, requesting anonymity, told IANS: "As per Manu Sharma's transfer order, he has to work at his family NGO Siddhartha Vashishta Trust and work for thousands of children of underprivileged prisoners to provide them books, free education, and financial aid. The open jail inmates are only a step away from release from incarceration."
However, the officer said, Jessica's sister cannot decide Manu Sharma's release but the L-G.
The prisoners in the list also include former Congress Youth president Sushil Sharma, who was convicted for killing his wife Naina Sahni in what came to be known as the tandoor murder, has been in prison for over 23 years. Sushil Sharma had shot Sahni in the head and then burnt her body in a clay oven at a central Delhi restaurant where his friend was the manager.