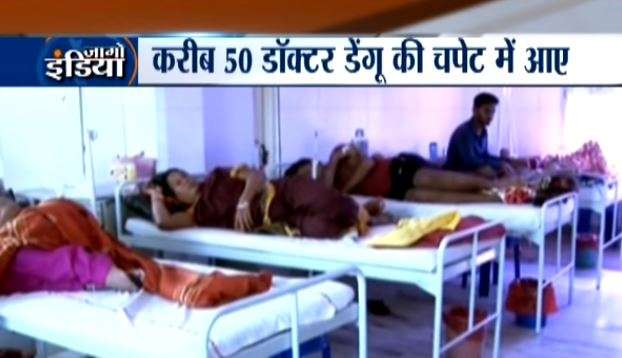 After dengue cases crossed the 1,000-mark in Delhi this season, Nagpur too has 800 patients admitted in private and government hospitals in view of the vector borne disease. 
As many as 50 residential doctors of Indira Gandhi Medical College were also reported to be suffering from dengue, which has startled many.
Meanwhile, Health Ministry has issued an advisory, and also sought a response from the Dean of Indira Gandhi Medical College as to how the doctors were hit by the disease.
Everything is being checked, including coolers in the premises. This has to be made sure that water doesn't collect near tanker, Doctor Sanjay Jaiswal of the Health Department said.
According to a municipal report, dengue cases crossed the 1,000-mark in Delhi this season, with nearly 540 people being diagnosed with the vector-borne disease in October only.
Also, 411 cases of malaria and 109 of chikungunya have been reported this season till October 20, the report said.
The report says at least 539 of the dengue cases came to light in the first three weeks of October, which accounts for over 52 per cent of the total cases reported this season.
Of the 1,020 dengue cases this year, 374 were recorded in September, 58 in August, 19 in July, eight in June, 10 in May, two in April, one in March, three in February and six in January.
A senior doctor at a government-run facility advised people to take all precautions like wearing full-sleeves and not allowing the breeding of mosquito larvae inside their homes.
"Water coolers should be dried up when not in use as dengue infection carrying mosquitoes breed there a lot. Mosquito nets should be used at home," the doctor said.
The cases of vector-borne diseases are usually reported between July and November, but the period may stretch to mid-December. No vector-borne disease case was reported till January 13.
WATCH FULL VIDEO: