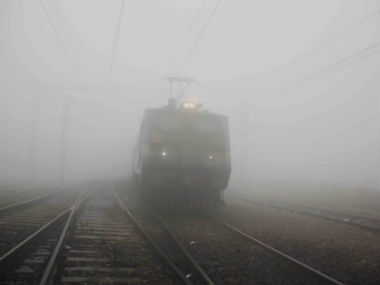 Due to the dense fog which enveloped several parts of the national capital on Friday, 55 trains were cancelled.
25 trains remained partially cancelled and at least 11 delayed across northern railways due to low visibility, officials said.
A dense layer of fog that engulfed Delhi and parts of northern India also affected the flight in the morning.
Mercury dipped to 7.1 degrees Celsius on Friday, also the visibility at Palam and Safdarjung was zero and 400 metres respectively. 
The North Central Railway, which spans over parts of Uttar Pradesh, Haryana, Rajasthan and Madhya Pradesh was the worst performing zone in terms of punctuality of trains due to the bad weather conditions while the Western Railway toped the chart.
Puri-New Delhi Purushottam Express, Howrah-New Delhi Poorva Express, Malda-Anandvihar Express, Mumbai-Amritsar Express and Farakka Express Malda-Delhi were some of the trains which got delayed by several hours, the railways said.
Most of the affected trains were running late by two to three hours due to very low visibility, they said.
The situation, however, was much better this year because of 'Fog Pass', a safety device that was provided to railway zones worst affected by fog, they added.
A Global Positioning System-based portable device, the Fog Pass serves as an aid for the crew during low visibility conditions through an audio-visual alarm whenever a landmark comes within its geo-fence range.
Also trucks won't be given permission to enter the national capital. 
However, trucks bearing the essential goods might be allowed in the city. 
The ban will be implemented for 24 hours starting Friday morning.