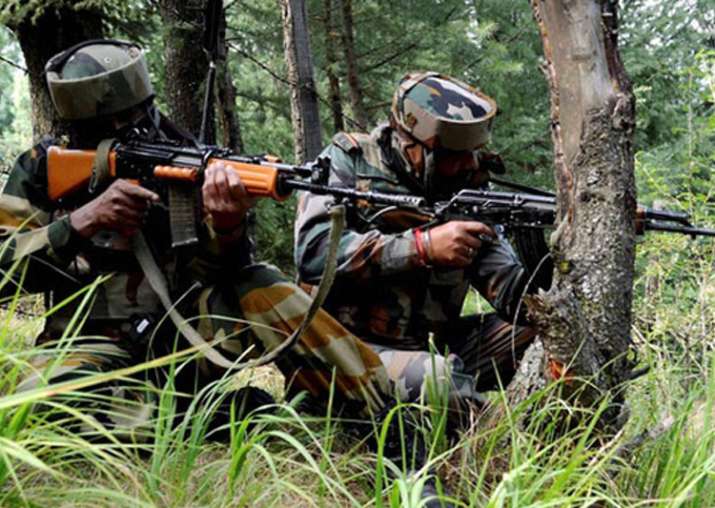 Pakistan rangers on Saturday violated ceasefire along the international border (IB) in Jammu and Kashmir targeting Indian positions, killing livestock and damaging several properties.
This is for the fourth consecutive day that Pakistani troops are violating ceasefire along the International Border (IB) in Jammu district.
The rangers resorted to shelling and firing in Arnia sub-sector of Jammu district using mortars, automatics and small arms, a police official said.
They targeted Sai, Treva and Jabowal forward posts of the Border Security Force (BSF). "Indian troops retaliated strongly after which the firing exchanges stopped," the official said.
Two residential houses, a temple and three cattle sheds were damaged in the indiscriminate shelling by Pakistan. "Three cattle perished and three were injured," he said.
BSF jawan killed, villager injured in ceasefire violation by Pakistan
On Friday, a Border Security Force (BSF) jawan was killed and a villager was injured in ceasefire violation by Pakistan rangers in Arnia sub-sector of International Border in Jammu district. "One BSF trooper has been killed in ceasefire violation by Pakistan rangers. They are using mortars, automatics and small arms to target nine BSF posts in Arnia. BSF troopers are retaliating strongly and effectively", BSF sources said.
Constable Bijender Bahadur was on duty at forward point along the fence in Arnia sector along the IB when Pakistani Rangers resorted to mortar shelling and small arms fire at about 12.20 AM.
A bullet hit the jawan on the left of his abdomen and he succumbed to injuries on the way to hospital, a BSF officer said.
"BSF troops retaliated strongly and gave befitting reply," he said. "Intermittent fire continued from both sides from midnight till morning," the officer said.
Bahadur, 32, hailed from Vidya Bhawan Naraypur village in Uttar Pradesh's Balia district. He is survived by his wife Sushmita Singh.
A civilian named Ajay Kumar, 37, of Pawal Arnia, received a bullet injury on his right leg outside his house and was shifted to Arnia Hospital.
There have been continuous ceasefire violations by the Pakistani troops for the past three days.
Two Pakistani soldiers were killed in retaliatory action by the BSF yesterday while three Indian jawans were injured in unprovoked firing and shelling by Pakistani troops along the IB and the LoC in Jammu and Poonch districts on Wednesday.
Incidents of ceasefire violations by Pakistani troops have increased sharply this year. Till August 1, there have been 285 such actions by the Pakistan army, while in 2016, the number was significantly less at 228 for the entire year, according to figures by the Indian Army.
- With agency inputs