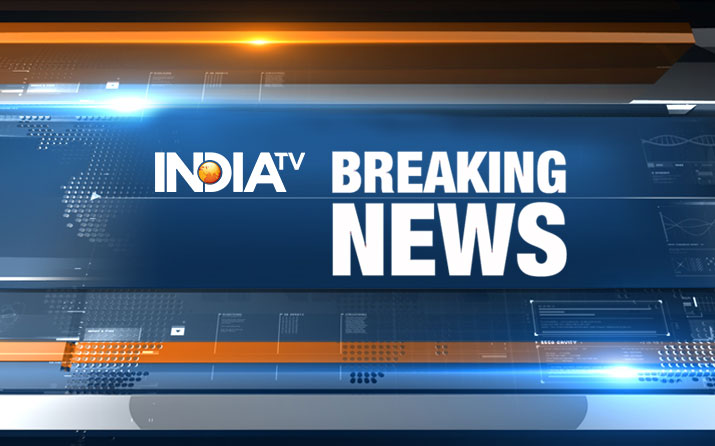 Twitter is buzzing with breaking news and news alerts from India and rest of the world. Here is the coverage of all breaking alerts and latest updates from the micro-blogging site on one page:
Breaking News of November 10:
11:09 pm: Etah: IT raids conducted at 21 premises in 7 cities of superintendent engineer of Irrigation Department, Rajeshwar Singh on the allegations of amassing property by misuse of his position. Jewelry, cash and property documents seized (ANI)
11:08 pm: Uttar Pradesh govt announces formation of Krishak Samridhi Aayog for the welfare of farmers in the state. CM Yogi Adityanath to head the body (ANI)
10:13 pm: French footballer Patrice Evra, who 'karate kicked' Marseille fan, banned from all European tournaments until June 30, 2018 (AFP quoting UEFA)
10:08 pm: Hyderabad Police arrest 2 Bahrain nationals, 2 clerics and a lodge owner allegedly for human trafficking girls. 5 other traffickers also arrested for raping a 14-year-old girl (ANI)
10:01 pm: Odisha: Vice President M Venkaiah Naidu arrives in Bhubaneswar where he will address at the convocation ceremony of KIIT University tomorrow.
09:53 pm: Outgoing DGP Anurag Sharma to be appointed as Advisor Home, while M Mahender Reddy to become new DGP of Telangana. VV Srinivas Rao to become incharge Commissioner of Police of Hyderabad: CMO Telangana (ANI)
09:49 pm: Three hurt in possible vehicle attack near Toulouse (AFP quoting French police)
- Man driving car near French city of Toulouse 'deliberately' rammed into three students, leaving two of them in a serious condition
09:29 pm: Why did people not protest earlier when other movies were made on Padmavati? Censor Board is responsible enough to know what to pass and what to cut. Protesting against a film without watching it first is wrong: Pahlaj Nihalani, former CBFC Chairman on Padmavati row (ANI)
09:19 pm: The recommendations made by the GST Council today will further benefit our citizens and add strength to the GST. These recommendations are in spirit of the continuous feedback we are getting from various stakeholders on GST: PM Modi
- Jan Bhagidari is at the core of our working. All our decisions are people-inspired, people-friendly and people-centric. We are working tirelessly for India's economic integration through GST: PM Narendra Modi
09:17 pm: 8 naxals arrested from Sukma's Chinta Gufa area, Chhattisgarh (ANI)
08:33 pm: Pawan Hans Helicopters Limited agrees for aerial sprinkling in Delhi (ANI)
- Delhi govt had earlier asked the Centre for air sprinkling. Following a directive by the environment minister, it contacted Pawan Hans Helicopters Limited
- Representatives of the company and Delhi govt likely to meet tomorrow to discuss the details
07:58 pm: Gunshots heard outside police post in Anantnag's Dangerpora, Jammu and Kashmir, police retaliate. Search around police post underway (ANI)
07:55 pm: Saudi Arabia clearly declares war on Lebanon (Russian media)
07:43 pm: Hezbollah chief says Lebanese PM Hariri 'detained' in Saudi (AFP)
- Lebanon's Hezbollah leader says prime minister was forced to resign by Saudi Arabia, is held there against his will (AP)
07:41 pm: BSF apprehends three Pakistani fishermen, seize five boats along the India-Pakistan border in Gujarat's Kutch (PTI quoting official)
07:38 pm: Pakistan government to arrange a meeting of Kulbhushan Jadhav with his wife, on 'humanitarian grounds' (ANI)
07:31 pm: Filing of return for 3B will be continued till March. All tax payers will continue to file 3B till March 2018: Hasmukh Adhia, Finance and Revenue Secretary (ANI)
- If there is a nil return to be filed then late filing penalty will be reduced to Rs 20. For others, it has been reduced to Rs 50.: Hasmukh Adhia, Finance and Revenue Secretary
07:24 pm: All restaurants in the country to be levied GST of 5%, no ITC benefit to any restaurant: FM Arun Jaitley (ANI)
07:22 pm: 178 items have been moved from 28% to 18% GST slab, changes will be applicable from 15 November: FM Arun Jaitley after 23rd GST Council Meet in Guwahati, Assam
- There are two items that have been moved from 28% to 12% GST slab: FM Arun Jaitley
- 13 items moved from 18% to 12%, 6 items from 18% to 5%, 8 items from 12% to 5%, 6 items from 5% to nil: FM Arun Jaitley
- Detergent, marble floorings, toiletries among items shifted to 18% tax bracket from 28%: FM Arun Jaitley
07:04 pm: Cabinet approves setting up of panel to look into salary hike of lower court judges (PTI quoting official sources)
07:00 pm: Speaker of Catalonia's sacked parliament leaves jail (AFP quoting Interior Ministry)
06:58 pm: Ballistic missile that targeted Saudi capital was Iranian and bore "Iranian markings" (AP quoting U.S. Air Force general)
06:56 pm: Mumbai: Farmer, who came to meet Agriculture Minister, threatened to commit suicide by jumping off the 6th floor of the Mantralay building. He threw a chit with his number to Police, who negotiated with him on call and later detained him (ANI)
06:55 pm: Abu Salem extradition treaty: Jabalpur High Court rules that filing of more than 9 cases is a breach of the treaty with Portugal. The High Court was hearing an appeal by Abu Salem where Bhopal Police had named him in a murder case, making it the 10th case against him (ANI)
06:52 pm: Cabinet approves protocol amending the Agreement between India and Kyrgyz Republic for the avoidance of double taxation and the prevention of fiscal evasion with respect to taxes on income (ANI)
- Cabinet approves an Agreement between India and the Hong Kong Special Administrative Region of China for the Avoidance of Double Taxation and the Prevention of Fiscal Evasion with respect to taxes on income
- Cabinet also approves creation of National Testing Agency as an autonomous and self-sustained testing organization to conduct entrance examinations for higher educational institutions
- Cabinet nod to Development of Exhibition-cum-Convention Centre, Dwarka (New Delhi) and allied infrastructure, to be completed by year 2025
- Cabinet gives approval to utilize part of stock of pulses in Central buffer, for meeting the protein component under various Central Government schemes that provide nutrition to various target groups
06:10 pm: Akshara Bose, a native of Kerala's Pathanamthitta, files petition in Kerala HC alleging sexual exploitation, forceful conversion and fraudulent marriage, urges for investigation by NIA (ANI)
06:09 pm: UNESCO confirms French ex-culture minister Audrey Azoulay as new head (AFP)
06:08 pm: Lalu Yadav drops hint that Tejashwi Yadav could be RJD face in next Bihar poll (PTI)
06:06 pm: Industrial output grows 2.5 percent in first half of this fiscal compared to 5.8 percent a year before (PTI)
06:05 pm: Industrial production grows 3.8 percent in September compared to 5 percent a year ago (PTI)
05:44 pm: From Iraq, Iran, Afghanistan, Pakistan to Saudi Arabia so many Muslims practice Yoga. It is an exercise which is good for mental and physical wellness, religion shouldn't be brought into this: Baba Ramdev on stones hurled at house of Muslim woman who teaches Yoga in Ranchi (ANI)
05:42 pm: EU's Barnier says needs answer on Brexit bill within two weeks (AFP)
05:38 pm: North Ireland Brexit solution 'cannot create new border' inside UK (AFP)
05:32 pm: Chhattisgarh: Three Naxals arrested in Bijapur's Basaguda Police station range (ANI)
05:25 pm: Medical college admission scam: Order by Justice J.Chelameswar made null and void by the Supreme Court (ANI)
05:20 pm: CJI tells advocate Prashant Bhushan that he has levelled "wild allegations" against him in a matter in which CBI had lodged a corruption case (PTI)
05:18 pm: Odisha High Court asks Election Commission to decide on case regarding to discrepancies in Odisha CM Naveen Patnaik's 2014 election's expenditure (ANI)
- Candidate, who defeated by CM Naveen Patnaik from Odisha's Hinjilicut Assembly Constituency in 2014 had filled a petition before Odisha HC in this regard
05:14 pm: Supreme Court strongly objects to yesterday's order by a two-judge bench, setting up a five-judge Constitution Bench to hear a matter (PTI)
- Constitution Bench says allocation of matter by CJI is the principle of law, judicial discipline and decorum of court
05:12 pm: Five-judge Constitution Bench, in an urgent hearing, rule that the CJI is the master of roster of Supreme Court (PTI)
- Supreme Court makes it clear that neither a two-judge, nor a three-judge bench can direct CJI to constitute a specific bench
05:10 pm: Joint troops of 39 Bn CRPF and Telangana Police carry out area domination operation in Laxmipuram village of Mahabubabad, apprehend 6 members of CPI New Democracy, arms and ammunition also seized: CRPF (ANI)
05:09 pm: Catalan speaker has bail paid, may leave jail (AFP)
05:08 pm: APEC Summit in Vietnam: US President Donald Trump lauds India's growth story, says PM Narendra Modi has been working successfully to bring India, its people together (PTI)
04:50 pm: All-rounder Hardik Pandya rested for the first two Test matches against Sri Lanka to negate possibilities of injury concern (PTI)
04:43 pm: Jammu and Kashmir: Police finds a rusted grenade lying in grass in Shopian's Gagren, was later defused by bomb disposal squad (ANI)
04:42 pm: Union home ministry creates new divisions to check radicalisation, cyber fraud in a major rejig of some of its crucial wings (PTI)
04:37 pm: Telangana: Girl from Hyderabad goes missing after she was allegedly trafficked to Dubai and later to Oman on pretext of job by an agent, family appeals EAM Sushma Swaraj to find her and help her return to India (ANI)
- She was locked in Dubai for 3 days. Then she was sent to Oman. We don't know where she is now. We are being sent from one police officer to the other but nothing has happened yet. We appeal to EAM Sushma Swaraj to help her return to India: Sister
04:36 pm: Kerala High Court directs state police chief to arrest and produce Kerala water Authority MD on November 15 before it, in a case of contempt of court (ANI)
04:22 pm:
Prime Minister Narendra Modi met India U-17 football team in New Delhi. The team was invited after they came back from Saudi Arabia following the AFC U-19 Championship Qualifiers. pic.twitter.com/L7mNt6NyWI

— ANI (@ANI) November 10, 2017
04:21 pm: Uber loses employment rights case in Britain (AFP quoting lawyers)
04:20 pm: Islamic State jihadists retake nearly half of Syria border town (AFP)
04:19 pm: CBI has stated that Ashok did not commit the murder and they are giving him a clean chit. The hearing on bail application will be done on November 16: Driver Ashok's lawyer on Pradyuman murder case (ANI)
03:52 pm: There will come a change. BJP will come into power in Bengal in 2019: Mukul Roy, BJP (ANI)
- In Bengal, Durga Puja and Laxmi Puja has been stopped. Mamata Banerjee is playing minority politics: Mukul Roy, BJP
03:50 pm: Keeping in mind environmental emergency and odd-even, a special NGT bench will sit tomorrow, on a holiday, Delhi govt will have to answer them why is Odd-Even necessary to be implemented now: Gaurav Bansal, lawyer in odd-even implementation matter in NGT (ANI)
03:49 pm: Sensex rises 63.63 points to end at 33,314.56; Nifty up 12.80 points to 10,321.75 (PTI)
03:48 pm: Pradyuman murder case: Punjab and Haryana High Court adjourns hearing in bail plea of Pinto Family till November 17, changes the earlier date of December 5 following Supreme Court's order (ANI)
03:46 pm: Bengaluru: Woman passenger in Ranchi-Bengaluru flight files an FIR against 3 Air Asia staff members under charges of misbehavior and harassment (ANI)
03:40 pm: NGT asks Delhi govt to impose Rs 1 lakh fine on builders found violating directions, as construction work has been halted in view of smog and air pollution (ANI)
- NGT directs states to ensure that there should be no crop burning, says if any incident is reported to NGT, a considerable amount of fine will be charged from salary of responsible officer
03:11 pm: CJI led five-judge bench starts hearing in medical college admission scam case (ANI)
02:47 pm:  Lower 18 per cent GST will be levied on chewing gums, chocolates, after shave, deodorant, washing power, detergent, marble: Bihar Dy CM Modi (PTI)
02: 45 pm: GST Council decides to keep only 50 items, mostly demerit, sin and luxury goods in top 28 per cent bracket, says Bihar Deputy CM Sushil Modi (PTI)
02:45 pm: NGT asks the Delhi government to prove whether odd-even scheme has reduced pollution or else NGT will stay the imposition of the scheme. Hearing to continue tomorrow (ANI)
02:44 pm: NGT on odd-even: 'When situation is improving, the government is trying to implement it. You should have done this earlier if you wanted to. This will now cause inconvenience to people.'  (ANI)
02:42 pm: NGT on odd-even: 'When situation is improving, the government is trying to implement it. You should have done this earlier if you wanted to. This will now cause inconvenience to people.' (ANI)
02:41 pm: The Delhi government has asked the NGT to exempt industries catering to essential services from its ban order (PTI) 
02:40 pm: NGT raps Kejriwal government for announcing odd-even scheme in Delhi, despite reports from CPCB and DPCC that it was ineffective (PTI) 
02:27 pm: Kerala: Revolutionary Youth Front (RYF) members protest outside minister Thomas Chandy's residence Trivandrum, demand his resignation over land encroachment case against him (ANI)
02:23 pm: To encourage use of public transport during odd-even, Delhi govt to allow free travel for commuters in all DTC and Cluster buses from 13-17 November, tweets Delhi Transport Minister Kailash Gehlot
02:08 pm: Kerala cabinet has decided to recommend the Governor to pass an ordinance for reducing tenure of Travancore Devaswom Board members from three to two years (ANI)
02:08 pm: Uttar Pradesh: Illegal arms factory busted in Ghaziabad, one arrested with 21 pistols in possession (ANI)
02:04 pm:  BCCI is not a National Sports Federation but an autonomous sports organisation affiliated to ICC which governs cricket globally. BCCI is not subject to the jurisdiction of NADA and is required to operate within the rules and regulations set by the ICC: BCCI's response to NADA (ANI)
01:45 pm: Allahabad High Court's Lucknow bench dismisses petition seeking stay on release of the movie Padmavati, asks petitioner to approach concerned body (ANI)
01:44 pm: CBI is also verifying the veracity of gardener and PT teacher's statement given to local police: CBI sources on Pradyuman murder case (ANI)
01:44 pm: CBI probing role of a second student who accompanied the arrested Ryan student: CBI sources of Pradyuman murder case (ANI)
01:23 pm: 
Leonard She Okitundu, Vice Prime Minister , Minister of Foreign Affairs and Regional Integration of the Democratic Republic of the Congo meets EAM Sushma Swaraj in Delhi. pic.twitter.com/uTMvEkDni9

— ANI (@ANI) November 10, 2017
01:23 pm: Rajasthan government asks doctors on strike to return to their duties by 7 pm, today, says, strict actions will be taken if direction is not complied with (ANI)
01:22 pm: Union Cabinet meeting to take place this evening (ANI)
01:20 pm: Delhi-Patna Indigo flight 6E 738 diverted to Kolkata due to bad weather in Patna (ANI)
01:02 pm: While dismissing the petition, Supreme Court said that the Censor Board has not yet issued certificate to Padmavati , it is an independent body and therefore SC should not intervene in their jurisdiction (ANI)
01:01 pm: Three naxals arrested in Chhattisgarh's Basaguda (ANI)
01:01 pm: Supreme Court refuses to stay the Delhi High Court order that quashed election of All India Football Federations's (AIFF) office bearers  
01:00 pm: Supreme Court dismisses petition filed against release of the film Padmavati (Click Here to Read More)
12:59 pm: 
#Odisha: Two killed, five critically injured in a car-auto rickshaw accident in Nayagarh's Dashapalla pic.twitter.com/n0VuAnqEhb

— ANI (@ANI) November 10, 2017
12:58 pm: Have detained more than 150 BJP workers in Hubli protesting against Tipu Jayanti celebration: Renuka Sukumar, DCP Karnataka (Click Here to Read More)
12:22 pm: Maharashtra: Three convicts in 2014 Lonimawala gang-rape case, sentenced to death by Ahmednagar court (ANI)
12:21 pm: Jammu and Kashmir: Terrorists fire upon police vehicle in Kulgam's Qazigund. No injuries reported. More details awaited (ANI)
12:17 pm: Doctors' strike in Rajasthan, demanding better pay and service conditions, continues; visuals of patients outside Jaipur's Sawai Man Singh Hospital (ANI)
12:13 pm: Supreme Court acquits a person serving 20 year sentence for dealing in contraband drugs. Khekh Ram was arrested in 2009 by Himachal Pradesh police, and has already served three years behind bars (ANI)
12:05 pm: After long term we got a strong leader no doubt. PM is taking significant steps, but, implementation has lot of improvement that needs to be done. Businesses are really down and not in good spirit but now spirit has to come up, I'm sure it will: Sri Sri on one year of Demonetisation (ANI)
12:02 pm: SC grants liberty to the TMC leader to file plea for impleadment in main Aadhaar matter, which would be dealt by a Constitution Bench (PTI)
12:02 pm: SC refuses to entertain plea filed by a TMC MLA challenging linking of bank accounts with Aadhaar (Click Here to Read More)
12:01 pm: Supreme Court adjourned hearing on a plea seeking autonomy to the Election Commission of India, till November 27th (ANI)
12:00 pm: US President Donald Trump will not meet with Russia's Putin in Vietnam (AFP)
11:45 am:  PoK is part of India as per agreement made by Maharaja Hari Singh but it has been under Pakistani occupation. Under leadership of PM Modi we have the power and will to solve this matter. PM is working in this direction and it will be resolved soon: MoS Home Hansraj Ahir (ANI)
11:27 am: White House says Trump believes Moore 'will do the right thing and step aside' if sexual misconduct allegations are true (AP)
11:20 am: Plea seeking minority status for Hindus in several states: Supreme Court refuses to entertain the case, asks the petitioner to approach National Commission for Minorities (ANI)
11:19 am: NGT asks Delhi government on the rationale behind application of the odd-even formula and the data on old cars in Delhi; case to be heard at 2 PM. (Click Here to Read More)
11:18 am: Until a committee doesn't look into the that fact that if there is actually something that differs from historical facts, can't comment. Apart from that, no one should take law and order into their hands: Rajasthan Home Minister Gulab Chand Kataria on if Padmavati should release (ANI)
11:11 am: Second meeting of Economic Advisory Council to the Prime Minister, under chairmanship of Bibek Debroy, underway in Delhi; Dr. Shamika Ravi also attends as a part-time member (ANI)
11:10 am: China vice finance minister says changes to foreign ownership rules on financial firms effective immediately (Reuters)
11:09 am: Supreme Court to hear on 13th November a plea by Rajasthan government challenging state High Court order which had stayed a bill from Rajasthan Assembly proposing OBC reservations (ANI)
10:59 am: Rs 6000 fine imposed on a student, he was involved in cooking Biryani near the stairs in front of Administrative building on 27th June, and eating it thereafter along with other students. This act is serious in nature: JNU (Click Here to Read More)
10:47 am: Our efforts will be to ensure that the situation is normal. We will stay alert there: Army Chief General Bipin Rawat on Doklam (ANI)
10:41 am: PMLA case: Supreme Court dismisses Rohit Tandon's bail plea, who was arrested post demonetisation (ANI)
10:29 am: A heavy explosion reported in Bolan area in Lashkargah City, Helmand province, reports Afghan's TOLO news
10:28 am: Income Tax conducts raid on a Superintendent Engineer in UP Irrigation department. Raids underway at seven cities including Delhi, Noida, Etah in 20 places. The person under scanner is Rajeshwar Singh Yadav (ANI)
10:12 am: Final decision depends on the Government, whatever is decided will be acceptable: Army Chief General Bipin Rawat on demand to recommend Field Marshal KM Cariappa for Bharat Ratna (ANI)
10:11 am: Stone pelting incidents have come down to some extent. Army, BSF, CRPF, J&K Police working together in J-K: Army Chief General Bipin Rawat (ANI)
09:50 am: 
#MadhyaPradesh: One dead, five injured after five vehicles collided into each other due to fog, in #Bhind pic.twitter.com/sbLD2vXuF2

— ANI (@ANI) November 10, 2017
09:46 am: Army has no shortage of arms. We have to keep modernizing weapons, arms as the technology is upgrading, and we are trying to bring in new and modernised technique ones in our Army: Army Chief General Bipin Rawat (ANI)
09: 31 am: Section 144 imposed in Kodagu, Karnataka ahead of Tipu Jayanti celebration, security tightened: District Administration (ANI)
09:17 am: Sensex opens 58.12 points lower at 33,192.81; Nifty slips to 10,297.75
09:09 am: Varanasi: Army Chief General Bipin Rawat visits Kashi Vishwanath Temple with family, says "prayed for the safety and security of our jawans on borders" (ANI)
08:52 am: BSF seized five Pak fishing boats and apprehended three Pak fishermen from vertical channel of  Harami Nallah area in Bhuj, Gujarat (ANI)
08:40 am: 23rd meeting of GST Council scheduled to be convened today in Guwahati, Assam (ANI)
08:39 am: Three-year-old girl fell into a well in Madhya Pradesh's Dindori yesterday, rescued safely by two people (ANI)
08:38 am: Manipur: Army apprehended Finance in-charge of Kanglei Yawol Kanna Lup (KYKL) cadre at Tamu, Imphal. One pistol recovered (ANI)
08:35 am: Economic Advisory Council to meet at 10 AM in Delhi, today (ANI)
07:24 am: Putin accuses US of acting to influence Russia's 2018 presidential election, which he is widely expected to contest and win (APF)
07:20 am: Delhi's Mandir Marg at 515, Punjabi Bagh at 802, Anand Vihar at 571, Dwarka at 420 in Air Quality Index; all fall in the 'Hazardous' category (ANI)
07:11 am: Leonard She Okitundu, Vice Prime Minister, Minister of Foreign Affairs and Regional Integration of the Democratic Republic of the Congo, to meet External Affairs Minister Sushma Swaraj in Delhi today (ANI)
06:43 am: Disney announces new "Star Wars" trilogy (AFP)