Follow us on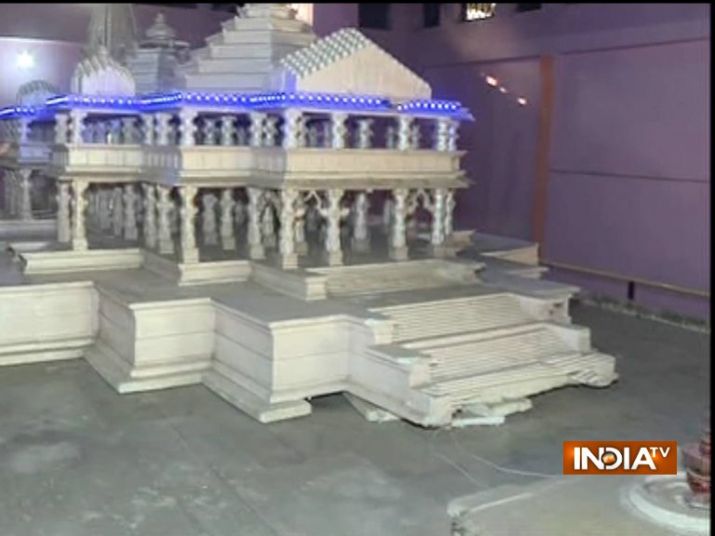 Months ahead of the crucial Lok Sabha elections, the contentious issue of Ram mandir has once again hit the boiling point with Shankaracharya Swami Swaroopanand Saraswati declaring that construction of the temple will begin from February 21. Speaking after the Param Dharam Sansad at Prayagraj on the sidelines of the ongoing Kumbh, Swami Swaroopanand said they are ready to take bullets if stopped from going ahead with the construction of the Ram temple in Ayodhya. 
"We will lay the foundation stone (of Ram temple) there on  February 21, 2019...we are not violating any order of the court. Until the High Court's order is quashed by the Supreme Court, it is still applicable. Wahan Ram Lalla virajman hain, wo janmbhoomi hai," Swami Swaroopanand said.
The announcement has come just a day after the Modi government, which is facing growing pressure to move swiftly on the Ram temple issue, asked the Supreme Court to allow it to return the 'non-disputed' surplus land acquired around the disputed structure in Ayodhya to a Hindu trust and other original owners.
Uttar Pradesh Chief Minister Yogi Adityanath had last week said people's 'patience' on the issue of Ram temple is 'fast running out'. Yogi Adityanath, while responding to a question during IndiaTV's show Aap Ki Adalat had said that if the Supreme Court was unable to give an early verdict on the dispute, it should 'hand it over to us' and it will be resolved within 24 hours.
Asked whether he would resolve the Ayodhya issue through negotiations or by wielding the stick, Adityanath smiled and replied: "First let the court hand over the issue to us.
​Also Read: Months ahead of Lok Sabha polls, Modi govt moves Supreme Court to hand over 67 acres of Ayodhya land to its owners
"I will still appeal to the court to dispose of the dispute soon. On September 30, 2010, the Allahabad High Court division bench gave its verdict not on the issue of division of land but upheld the view that the Babri structure was built by demolishing a Hindu temple or memorial. The Archaeological Survey of India, on the High Court's orders, carried out excavations and in its report admitted that the Babri structure was built by demolishing a Hindu temple or a memorial," he said.
"By adding the title dispute unnecessarily, the Ayodhya dispute is being prolonged. We appeal to the Supreme Court to give us justice at the earliest, to the satisfaction of millions of people, so that it can become a symbol of people's faith. But if there is unnecessary delay, institutions may lose people's trust," he added.
WATCH VIDEO: