Follow us on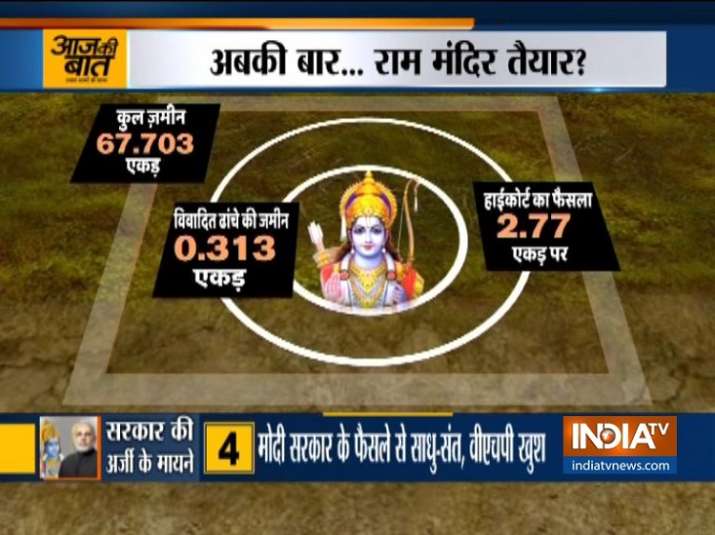 In a move which could play a big role in the upcoming Lok Sabha election 2019, which are due in April-May, the Modi government on Tuesday moved the Supreme Court with a plea to hand over 67 acres of land near the disputed Ayodhya site to its owners. The Centre said that the entire 2.77 acre premises, within which the disputed structure stood before its demolition on December 6, 1992, cannot be termed as 'disputed'.
The Centre claimed in its application before the the apex court that only 0.313 acre plot, on which the Ram Janambhoomi-Babri Masjid structure stood, was the disputed land.
 
In its 33-page application, the Centre sought modification of the apex court's 2003 order to permit it to return 67.390 acres of "non-disputed" surplus/superflous land around the disputed Ram Janmabhoomi-Babri Masjid structure in Ayodhya to the original owners. The court had held that unless the dispute is resolved, status quo has to be maintained over surplus land.
Congress questions timing of plea 
Soon after the application was moved the top court, the Congress questioned its timing. The main Opposition party said that people will decide on the intent of the government's 'sudden' move which has come merely two months before the general elections.
Also Read: Yogi Adityanath in Aap Ki Adalat: 'Give us Ayodhya Ram Mandir case, we'll solve it in 24 hours' 
The opposition party, however, said that it has 'no opinion' on the plea for a change in status quo that has been maintained for 16 years and it was a matter between the Supreme Court and the Centre.
"You will draw your own conclusion, the country will draw its own conclusion... What is important is that this application is moved on January 29, 2019, 16 years afterwards, in a matter of 2003 where the main writ of 2003 is pending," Congress spokesperson Abhishek Singhvi said.
Govt petition 'insidious', says Asaduddin Owaisi
Describing the Centre's plea in the Supreme Court to return excess land acquired by it in Ayodhya to their original owners as 'insidious', All India Majilis-e-Ittehadul Muslimeen (AIMIM) chief Asaduddin Owaisi said the BJP-led NDA government was trying to prevent fair adjudication of the dispute.
"This insidious attempt by the Central Government should not be ignored. They're trying everything in their capacity to prevent a fair and independent adjudication of the Babri Masjid dispute," Owaisi tweeted.
WATCH VIDEO:
(With inputs from PTI)