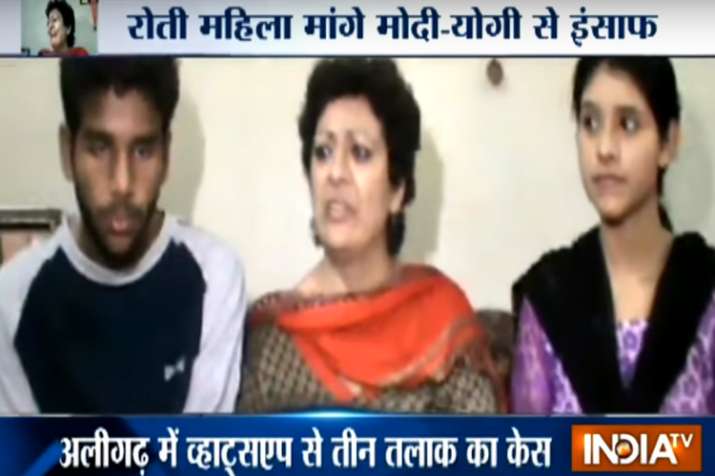 Two months after the Supreme Court's 'landmark' ruling against instant triple talaq, the wife of an Aligarh Muslim University (AMU) professor Khalid Bin Yusuf Khan has alleged that he gave her instant divorce on WhatsApp recently. 
Yasmeen Khalid also threatened to commit suicide in front of the vice-chancellor's house along with her kids if "justice is not done" to her. She has lodged a complaint against the professor at Aligarh's Civil Lines police station.
Yasmeen said that after 23 years of marriage, Khan, a professor and chairman at the department of Sanskrit in AMU and has been with the university for 27 years, gave her talaq first on WhatsApp, then text message and finally face-to-face.
She added that she has no choice but to kill herself along with her three children in front of VC Tariq Mansoor's house if she doesn't get justice by December 11.
The couple has two daughters and a son. While Khan has shifted to another apartment with one daughter, Yasmeen is left with the other daughter and son.
Both daughters – Ila and Ibra – have been semi-finalists in the reality show India's Got Talent.
The woman has also appealed to Prime Minister Narendra Modi and Uttar Pradesh Chief Minister Yogi Adityanath for justice.
When India TV tried to contact professor Khan through telephone, he said that he is Lucknow for some work.
Khan, a native of Uttar Pradesh's Azamgarh, was married to Yasmeen, a native of Kashmir, on January 21, 1995 after the two met each other through a matrimonial. Yasmeen is the district chief of Samajwadi Party's women wing. 
Yasmeen alleged that her husband is a philanderer, and has been involved with many female students of his department. In September this year, someone lodged a complaint about the professor with the varsity's administration. 
According to Yasmeen, Khan suspected the complainant to be his wife, and this became the reason behind him giving her triple talaq.
On September 30, Khan gave her divorce on WhatsApp. Then on October 30, he did the same on text message. Finally on November 8, when Yasmeen to his flat, he pronounced talaq, talaq, talaq in front of her.
Their daughter Ibra said that her father used to beat her mother very often. "Mummy told papa several times that she had written that letter, but papa didn't listen to her and gave her triple talaq," she said. 
A five-judge constitution bench of the Supreme Court in August this year termed the practice of triple talaq " unconstitutional" and asked Parliament to make a new law on the issue in six months. If the law doesn't come into force in six months, the SC's injunction on triple talaq would continue, the apex court held. It referred to the abolition of triple talaq in some Islamic countries and asked why "independent India can't get rid of it".