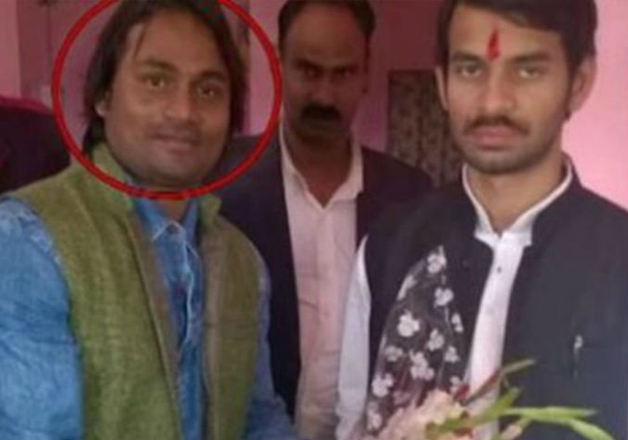 He first kicked up a row after appearing alongside RJD strongman Mohammed Shahbuddin at the time of his release from jail. Photographs of him with Lalu Yadav's son Tej Pratap Yadav soon started doing the rounds of the internet. Now, Mohammed Kaif, alleged sharp shooter and an accused in the murder of Siwan journalist Rajdeo Ranjan today came before the media and denied his involvement in the killing of the scribe and claimed that the journo was in fact very close to him.
"We (myself and Rajdeo bhaiya) started a cricket academy. I am a cricketer, I train boys. This accusation (murder of Rajdeo Ranjan) is false," he said. Kaif also showed a photograph of a function in which he was standing close to Rajdeo to prove his proximity to the slain journalist.
Notably, Kaif has been absconding and local police said the footage of him alongside Shahabuddin could be used against him as additional evidence.  
When quizzed about his appearance, which has created furore in the state politics, he said, "I wanted to come into politics. I went as a supporter, I had even asked my lawyer for advice before I went there. I will speak to my lawyer and proceed accordingly. Siwan public, journalists know that I am not a criminal."
A day after his Shahabuddin fiasco, another picture created furore in the already troubled political scenario of the state. This time, the absconding shooter was spotted with Lalu Prasad Yadav's elder son and Bihar Health minister Tej Pratap. 
The pictures appear to have been clicked sometime in February-March soon after Tej became minister in the Nitish Kumar Cabinet.
Kaif is one of the accused in the murder of Hindustan daily's Siwan bureau chief Rajdeo Ranjan. 
Reacting to the controversy, Tej said that he meets many people but doesn't recognise most of them.
"1000 people click pictures with me, I don't recognise everyone," he replied when asked about his photo with Kaif.
Siwan SP Saurabh Shah, on the other hand, said that their probe against accused Kaif in the case of journalist Rajdeo Ranjan's murder is still underway.
Meanwhile, Rajdev's wife Asha reiterated her demand of strict action against Kaif. 
"The pictures show that Shahabuddin is related to Kaif and some other criminals. He was released from jail on September 10 and today is September 13. How is it that the police did not know where the culprits were? Strict action should be taken against them," she said.
46-year-old Rajdev, the Siwan bureau chief with Hindi daily Hindustan, was shot dead on May 13 while returning home from office. He had covered crime and court reports relating to Shahabuddin.
Though the five accused nabbed earlier have reportedly confessed that they shot Rajdev at Laddan Mian's behest, Siwan Police have not yet been able to establish Shahabuddin's links with the murder. Mian is said to have close links with Shahabuddin.