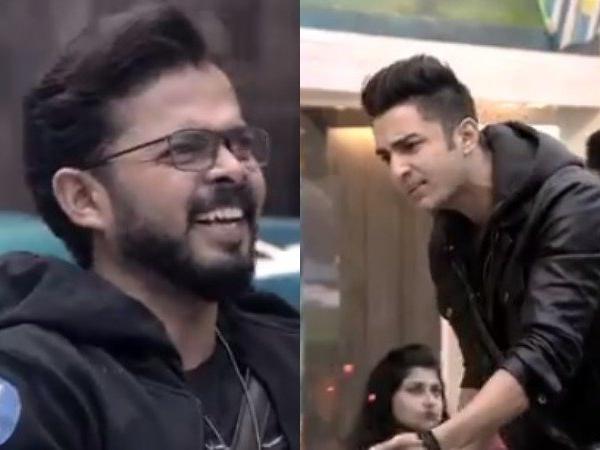 Last night's episode ended with Karanvir Bohra's mastermind plan to save Sreesanth for the last during the ongoing luxury budget task. KVB asks Deepak Thakur, Surbhi Rana and Rohit Suchanti to make accusations against Megha Dhade in the next round of the task and target what she has recently done in the house, which will guarantee them a point. He also says that they'll keep Sreesanth for the last and he will himself give them a point and justify all the accusations. Look at KVB making strategies and playing it smart! So far Dipika Kakar, Sreesanth's team is in the lead.
In today's episode, Deepak accused Megha of being disrespectful towards housemates spitting on his foot and throwing shoes at contestants. Megha retaliates by saying that if she is mistreated in the house or spoken to in a demeaning way, she gives it back the same way.
 Next up is Sreesanth who is also accused of being disrespectful towards the show and verbally abusing contestants left, right and centre. Sreesanth was already pretty riled up last night and it was pretty obvious right then that he is going to lose his cool.
Dipika then charges Karanvir guilty of being fake; while Deepak tags Dipika as fake. This erupts a war of words between the housemates with sanchalaks Somi and Jasleen getting at loggerheads to an extent that Jasleen gets labelled as a biased sanchalak. Eventually, Bigg Boss interrupted and called off the task and declared a draw. However, this didn't end the fights inside the house. Rohit instigates Deepak against Romil by saying how the latter thinks he has no brains.