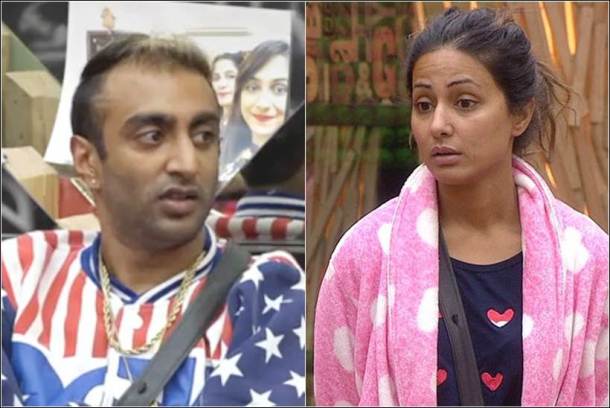 The Bigg Boss 11 November 23 episode started off with the courtroom drama where judges Bandgi Kalra and Sapna Choudhary were asked to choose the winner of Adaalat task. Sapna is bent on making team Hina Khan the winner while Bandgi asks for genuine explanation. At this point, the duo gets engaged in a massive brawl and, they fail to take any decision. Bigg Boss then announces that since no decision was made, the luxury budget task stands cancelled. The inmates start the blame game once again but Sapna says she made the right decision by being stubborn and not letting her team lose.
The captaincy task begins where Bigg Boss asks the name of five contestants who would be competing in the fight for captaincy. Akash Dadlani gets super hyped and announces that he wants to become the captain this time. He talks with good friend Puneesh Sharma and also tries to convince Hina Khan. The TV actress says she will take his name as captaincy contender provided he would take her name as well.
The decision time comes, and BB 11 contestants choose Vikas Gupta, Hiten Tejwani, Arshi Khan and Akash Dadlani as the captaincy contenders. There's a glitch when it comes to selecting the fifth contender. While some take Hina's name, others vote for Shilpa Shinde. At the end, Shilpa gets the maximum vote and becomes one of the contenders. 
Hina Khan gets upset as Akash and Vikas change their votes in favour of Shilpa. She then goes on tell Priyank Sharma and Luv Tyagi that Akash has betrayed her trust and now, their team should go with Hiten Tejwani.
Bigg Boss announces that each contender's photo board has been placed in the garden area and on the sound of the gong, each time a person can go and spray black paint on the one you want out from the race. After Luv black painted Vikas's photo and Priyank that of Arshi, the remaining names remain Akash, Shilpa and Hiten. 
For more entertainment news and updates, follow our Facebook page