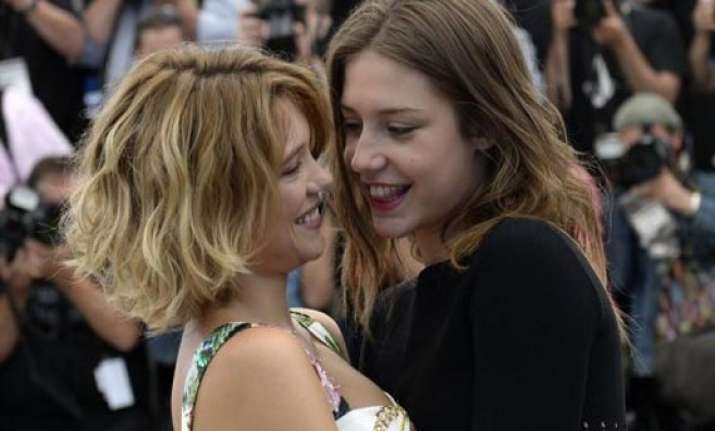 Cannes, France, May 27: The tender, sensual lesbian romance "Blue is the Warmest Colour: The Life of Adele" won the hearts of the 66th Cannes Film Festival, taking its top honour, the Palme d'Or on Sunday.
The jury - headed by Steven Spielberg and including director Ang Lee, and Oscar winning actors Nicole Kidman and Christoph Waltz - took the unusual move of awarding the Palme not just to Tunisian-born director Abdellatif Kechiche, but also to the film's two stars: Adele Exarchopoulos and Lea Seydoux.
And this is what the stars said on winning the Palme d'Or:
Lea: "It's the love, it's the love."
Adele: "It's the pure love. It's love by excellence, it's over and beyond everything."
Lea: "Yes it is, it's a universal story of love, and I think we need love these days."
When pressed further, actresses Lea Seydoux and Adele Exarchopoulos, said:
Adele: "Is this the best prize on earth?"
Lea: "Well yes,
Adele: "Are you sure?"
Lea: "Yes it is. "
Adele: "F**k yes."
Thierry Fremaux, Cannes Film Festival Director, said: "I loved what Abdellatif Kechiche said on stage, I Ioved the way he talked about youth, that is also the main subject of his film.
"I loved the idea of having a big fight in France right now about, about... what we call the marriage for everyone, to have a film talking about a love passion between two people of the same sex and that film was conceived and made two years ago.
" So the artists are always, you know, writing the future. And... and I think everyone who is against homosexual marriage or love between two person of the same sex, must see the film."