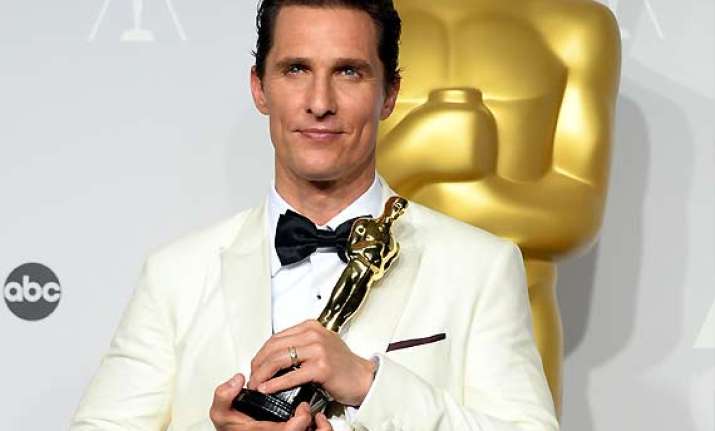 Los Angeles: Matthew McConaughey won the best actor Oscar for his career defining performance in "Dallas Buyers Club", a real-life inspired drama about an HIV positive man who smuggles drugs for AIDS patients.
The 44-year-old actor was being touted as the favourite in an exceptionally tight race in the best actor category after he won the Golden Globes and Screen Actors Guild awards. In his acceptance speech, the actor acknowledged his fellow nominees -- Leonardo DiCaprio ("The Wolf of Wall Street"), another front-runner, Chiwetel Ejiofor ("12 Years A Slave"), Bruce Dern ("Nebraska") and Christian Bale ("American Hustle").
"Thank you to all the nominees, all these performances were impeccable in my opinion. I didn't see a false note anywhere.... These are three things on my count that I need each day... One is something to look up to, another is something to look forward and another is something to chase," McConaughey said.
It has been a great year for McConaughey, who has been slowly making a turnaround as a serious actor from being the perennial romantic hero of Hollywood. The actor underwent a dramatic weight loss of around 20 kgs to bring Ron Woodroof onscreen and poured himself completely into the psyche of a homophobic cowboy, who not only fights a prejudiced society but the doctors and the drug authorities as a terminally ill man.
Interestingly, he was also a scene stealer in fellow competitor DiCapario's Wall Street drama where he played a small but impressive role of as the chest-thumping mentor of Dicaprio's character. In "Dallas Buyers' Club", based on the life of Ron Woodroof, McConaughey played a man diagnosed with HIV who finds a way to obtain the drugs that the government and the pharmaceutical companies are refusing to supply.
He was first noticed for his breakout performance in the coming of age comedy "Dazed and Confused" in 1993. After that he starred in a string of successful romantic comedies like "The Wedding Planner", "How to Lose a Guy in 10 Days" and "Ghosts of Girlfriends Past".
McConaughey finally decided to move away from romantic comedies to star in critically acclaimed films "The Lincoln Lawyer", "Killer Joe", "Mud", "Paper Boy" and "Magic Mike".