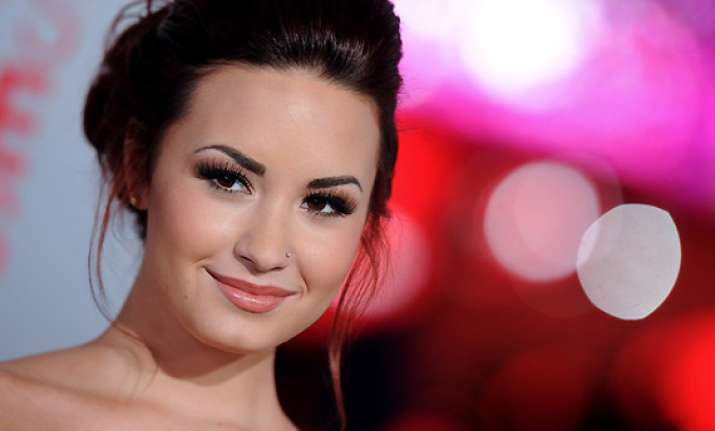 London, Apr 7:
The fall of 2011 was a tough time for singer and actress Demi Lovato.
After a meteoric rise through show business, starting as a pre-teen in television and including two hit solo albums, "Don't Forget" in 2007 and "Here We Go Again" in 2009, last year she crashed back down to earth, pulling out of a world tour to seek treatment for anorexia and self-harming.
And coming clean about her weaknesses has only strengthened the relationship with her fans.
"My honesty with my fans has really allowed me to have a really strong connection with (them) because there are no secrets," Lovato explains.
"What they see is what they get. And I think that's the way to do it, I think that there's something unapproachable and not really relatable when you're hiding everything and when you're just putting on a face every day and acting and singing. I think there's more to it, and if you really want to have a strong connection with your fans you should open up and be relatable."
Not that taking that step was easy, "It's really hard to open up to the whole world when you're embarrassed of the problems that you have," she admits.
"I was very vulnerable when I spoke about these issues, but I knew that it could possibly help someone, so I did it. But I guess I'm proud of myself for being able to speak about it, and being so honest with people."
As Lovato launches her "Unbroken" album in Europe, the fans have been quick to thank her.
Groups were hanging outside the hotel she was doing interviews in.
"They're really sweet to me, some say that I've inspired them to get help," she gushes.
"It just blows my mind when people say that to me, because I just never thought that I'd be in a position where I would help somebody with a problem that I struggled from myself."
Lovato's first single from the album, "Skyscraper," is another testament to her vulnerability.
Originally recorded before she went into therapy, there had been plans to rerecord now she's mentally and vocally stronger.
But Lovato found a purity on the original that she chose to stick with.
And now she's come full circle, taking her stronger "Unbroken" performance out on the road.
"I am dying to get onstage. I'm really excited, I'm actually going to South America in about a week and a half, so I'm going to go down there and do a tour, and I can't wait to get back on stage," Lovato laughs.