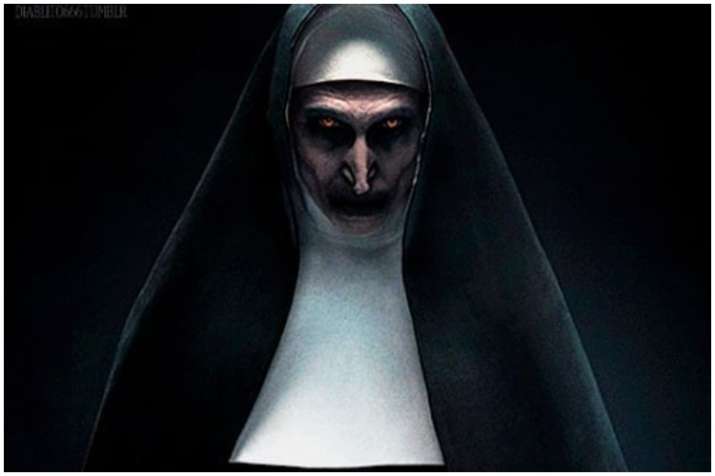 Quite popular in the genre of horror cinema, The Conjuring series will always manage to shake you up. Carrying the legacy forward, The Nun Movie is a spin-off of this terrifying series that explores the inception and making of the horrifying nun from the series.
The trailer unfolds with the infamous painting of the nun from The Conjuring and another nun, Sister Irene complains of having horrid dreams about the nun from the painting. That is when she begins with a search spree seeking her origin and finding out why she took her own life. Set in the abbey of Romania, The Nun Movie will see priests, nuns and the Vatican trying to unveil the darkest secrets of the church and risking their lives in turn.
The Nun Movie is one of the most-awaited horror films of 2018. Actor Taissa Farmiga, who plays Sister Irene took to her Instagram to further intrigue the fans. She shared va poster of The Nun Movie, with the caption, "I know you've all been dying to meet her...#TheNun @corinhardy@demianbichiroficial @jonasbloquet@charlottehope8 @thenunmovie"
Interestingly, Taissa Farmiga is Vera Farmiga's sister, who played Dr Lorraine Warren in both the Conjuring movies. It will be worthwhile to see whether Taissa can be as good as her sister in the Horror genre.
The Nun Movie will be in theaters on September 7, 2018. Watch trailer here.
The Nun Trailer Twitter Reactions
Jump scares aren't cheap if the jump scare isn't cheap. Conjuring 2 elevates them to high art, earning every jump by masterfully building to them. More than anything, *that* is the hallmark of the Conjuring Universe films. And that's a damn good jump scare in #TheNun trailer.

— John Squires (@FreddyInSpace) June 13, 2018
​
Sorry can't see the movie, dead from this moment. #TheNun pic.twitter.com/WM7DQsjp14

— Raven Banner (@RavenBanner) June 13, 2018
I Love the Conjuring Cinematic Universe - And from what we've seen so far...It Looks like #TheNun wont disappoint pic.twitter.com/oOpH9p1CJc

— Ben Tindall (@ToddIsntDead) June 13, 2018
Bruh😥😥 #TheNun pic.twitter.com/kuVcHGggrZ

— 🤬😇 (@LIQUIDCILVER) June 13, 2018
We have a poster now for upcoming #TheNun pic.twitter.com/RUFuQ2g6yg

— The Abominable Dr. Welsh (@AbomDrWelsh) June 12, 2018