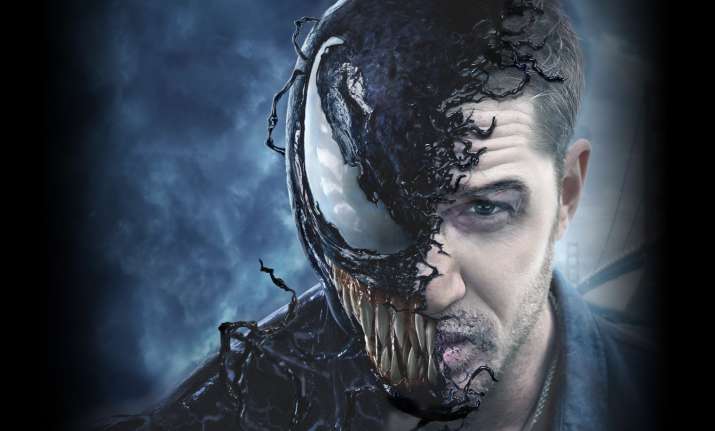 Popular rapper Eminem has composed a rap for supervillain film Venom and surprisingly it has references to India and the Father of the Nation Mahatma Gandhi. The new track has been created by Eminem in his album Kamikaze. Venom features Tom Hardy as Eddie Brock and as Venom.
Eminem, whose real name is Marshall Mathers, first gave a teaser of the song on Twitter, posting a 15-second video with lyrics: "Venom, knock, knock, let the devil in", followed by the sounds of an animal roaring and a man crying out in pain in the background. 
.@VenomMovie pic.twitter.com/TBPdhaf2WR

— Marshall Mathers (@Eminem) August 30, 2018
The lyrics go as: "Knock knock, let the devil in, malevolent...As I've ever been, head is spinnin' and this medicine... Screaming, 'Let us in'."
He also raps about former professional racing driver Danica Patrick, hip-hop artist Yung Joc, author Edgar Allen Poe and rapper Dr. Dre. 
"Threw the car into reverse at the Indy, end up crashing...Into ya, the back of it -- just mangled steel My Mustang and your Jeep Wrangler grill...With the front smashed, much as my rear fender, assassin... Slim be a combination of an actual kamikaze and Gandhi. Translation, I will probably kill us both... When I end up back in India... You ain't gonna be able to tell what the f**k's happening to you...When you're bit with the...,'' he raps.
Directed by Ruben Fleischer, the film also stars Michelle Williams, Riz Ahmed, Scott Haze and Reid Scott. It follows the popular Marvel anti-hero as he transforms from go-getter journalist to powerful alien symbiote. 
Venom was created in 1988 by Marvel Comics. The character made his big screen debut more than a decade ago in Sam Raimi's "Spider-Man 3", where he was portrayed by Topher Grace. The movie is intended to be the first film in Sony's Marvel Universe.
Sony Pictures India will bring the film to India in October. 
(With IANS inputs)