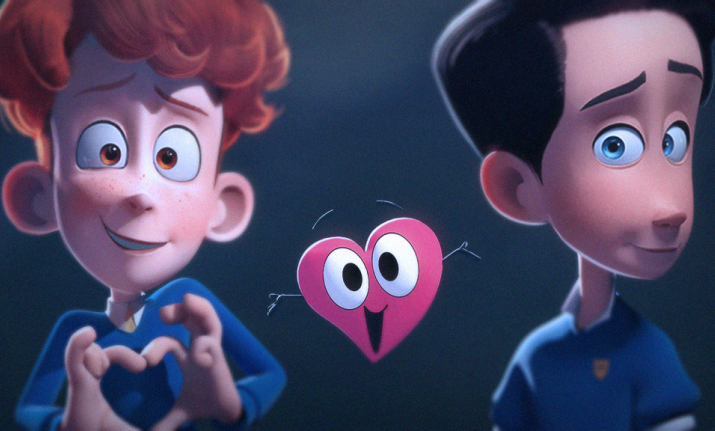 Internet is talking about it and we are completely swooning over this trailer.
The makers of animated short film In A Heartbeat have released a trailer that has got the social media buzzing. The 25-second trailer and short and a sweet portrayal of young love between two boys. The social media users are also lauding it because it is sort of groundbreaking since there is very little representation of LGBTQ in mainstream films.
The film that was partly funded by the Kickstarter campaign that was popular in November 2016. The campaign funded music and sound engineering for the film. More than USD 14,000 has been collected by campaign. 
the trailer for "in a heartbeat" is the purest thing i've ever seen i can't wait to see the full thing pic.twitter.com/A4zgbXBzm2

— love, taylor 🦋 (@etherealtayIor) May 17, 2017
This is so cute!! It's a short film about a closeted boy being outed by his own heart 😆💖 I can't wait to watch this 🌈 #InAHeartbeat pic.twitter.com/HjEGlofam2

— Anthony Richer (@AnthonyRicher32) May 19, 2017
People are happy as we can see from the comments on the website. One reader who goes by username Rin says,"It's crazy that there's almost nothing for younger kids to turn to regarding this topic. I'm aware of the controversy surrounding it in many places but I still think it's sad. I think many kids would feel happy just knowing and SEEING there are other kids and adults like them and it's nothing bad or unusual. But in a way they are used to at their age, like in a cartoon such as this."
Created by Beth ans Estaben, the Kickstarter website has the details on the project. According to the website,"We're a team of two senior Computer Animation majors at Ringling College of Art + Design, and we're mid-production on our thesis film, "In a Heartbeat!" This film is not only a culmination of our four years of education and hard work at the college, but also an expression of a subject that has not been explored in computer animation. It's a film that deals with a real and personal topic in a very sweet and lighthearted way and we are so excited to be able to share it with you!"
It's heartening that they promise to complete the project regardless of whether they receive funds or not.
They say,"Once the project is funded, we will continue our hard work to complete the film by Spring 2017. Regardless of whether the project is successfully funded, music or no music, this film will be completed."