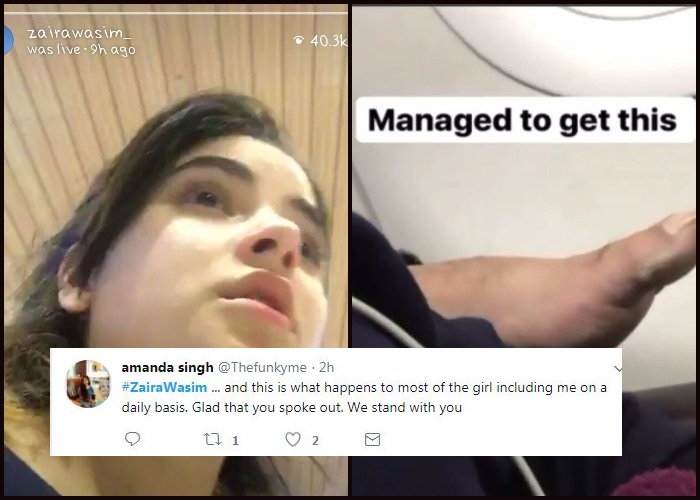 On Saturday night, Dangal actress Zaira Wasim shocked her fans with an Instagram LIVE video. In the video, the 17-year-old is narrating her ordeal on a Vistara flight. According to her,  a middle-aged man who was seated behind her in a Delhi-Mumbai flight took advantage of dim lights and molested her mid-air. She took a picture of the man's foot which was sticking out from behind. She alleged that he caressed her back and neck with his foot. In the video, Zaira Wasim also slammed Vistara Air crew members for not doing anything about the matter.
The video went viral on Sunday morning, sending social media into rage. Many people extended their support to Zaira Wasim on the matter. Some Twitterati raised questions on the deteriorating status quo of women's safety in the country. Here's how they reacted.
The person who don't how to sit in a flight is not a person actually he's a animal with a boarding pass.@airvistara look into the matter asap.
I Stand With @ZairaWasimmm #ZairaWasim

— Naveen Pal Singh (@navipalsingh) December 9, 2017
#ZairaWasim I would suggest please stop crying put yourself together and go to an adult you trust and explain the whole incident. File a sexual assault case against that fucked up man and I'm sure from the flight details we can chalk down the man's name and address !

— Pooja Singh (@Singhpooja14) December 9, 2017
#ZairaWasim, so sorry about the Terrible and Unfortunate incident.
I'm glad you stood up to it and totally agree that 'Nobody will fight for us unless we dont do it ourselves!'#HumanRightsDay pic.twitter.com/7RmrCskgni

— Geetika Swami (@SwamiGeetika) December 10, 2017
Don't bother reading social media replies to the News about what happened with #ZairaWasim . Publicity stunt, why not calling Police etc etc As usual, pure heartless Garbage. And people wonder why women don't speak up more often.

— José Covaco (@HoeZaay) December 10, 2017
But there were few social media users who instead of sympathizing with her, hurled the blame at her for being a 'cry baby'. Some even called out the entire incident as nothing but a 'publicity stunt' by the actress.
Looks like its a Fake Drama 👍 #ZairaWasim pic.twitter.com/kihNhg3Sri

— Varun Naidu 🌠 (@chocovarun) December 10, 2017
Strange as it may sound, why was hue and cry not made when she was facing the issue. Getting out and posting on Social Media to draw attention seems to be the trend these days. Taking a selfie while crying 😏#ZairaWasim

— Manoj (@mgknair) December 10, 2017
Now, where lies the advantage reprimanding then and there or uploading a weeping video @ZairaWasimmm Is she a weak girl? #ZairaWasim

— Joginder Singh (@jogi512002) December 10, 2017
#ZairaWasim in flight molestation attempt...
What stopped her from saying "PLEASE SIT PROPERLY" at the start itself?
Warn intruder at the start itself and be safe. Raise your voice at that moment is what is needed.

— deepak pande (@deepakpande77) December 10, 2017
After much social media outrage, Vistara Airlines responded on the matter. The official Twitter handle of Vistara Airlines issued a statement saying, "We @airvistara have seen the reports regarding @ZairaWasimmm experience with another customer on board last night. We are carrying out detailed investigation and will support Zaira in every way required. We have zero tolerance for such behaviour."
Zaira Wasim made her Bollywood debut with Aamir Khan's Dangal in 2016. This year, she featured in Aamir Khan's home production Secret Superstar.