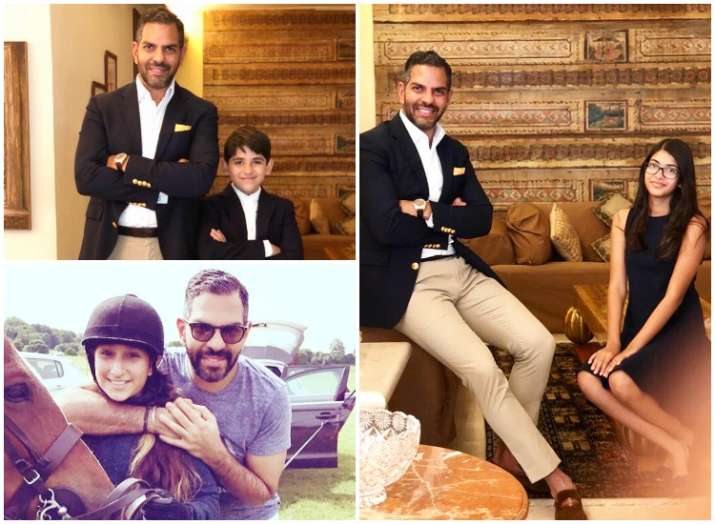 It has been more than five years, Karisma Kapoor and Sunjay Kapur got separated. In the year 2016, the then-couple got divorced and moved on with their respective lives. While Karisma is allegedly dating a Mumbai-based businessman, Sandeep Toshniwal, her ex, Sunjay tied the knot with Priya Sachdev in April 2017.
Karisma Kapoor may have won the custody of her two kids Sameira and Kiaan in court but her ex-husband Sunjay Kapur still has visitation rights. 
While their little cousin, Taimur Ali Khan Pataudi is an Internet star, Karisma Kapoor's kids Sameira and Kiaan have remained away from the limelight. The siblings are clicked by the paparazzi at the airport or at some family functions but they are comparatively a lot more low-key. They do spend time in Delhi time and again with their father, Sunjay Kapoor who is a doting dad to them. 
In some recent photos shared by Sunjay's present wife Priya Sachdev Kapur, Sunjay can be seen happily posing with Samaira and Kiaan. Sharing pictures of Sunjay striking pose with his children, Priya wrote the caption, "#Twosday The perfect twosday post! Loving, doting, caring and an amazing father...  #fatherdaughter #fatherandson #fatheranddaughter #twosdaytuesday #twosdays #twosday #twosday#twosday #twosdayvibe"
Priya also shared a picture of Sunjay posing with her daughter, Safira. Priya was earlier married to hotelier Vikram Chatwal, and this is her second marriage.
For the uninitiated ones, Sanjay and Karisma tied the knot in 2003 but things turned sour between the two quite soon. After having trouble in their paradise, they filed for the divorce in 2014. Karisma even moved out of Sunjay's Delhi house in 2010 and in 2016 the two were granted a divorce.