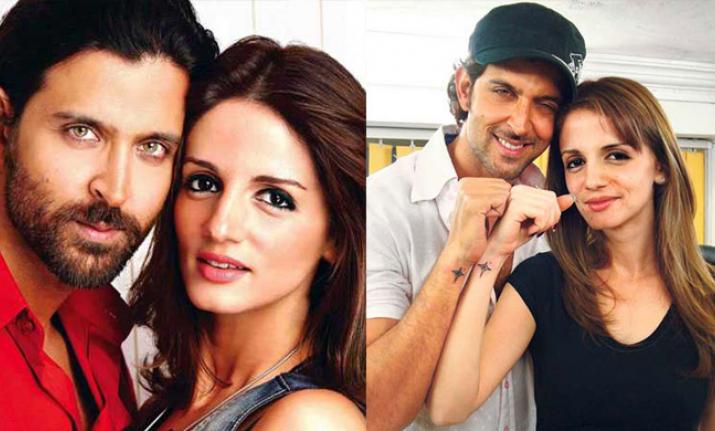 When Hrithik Roshan and Sussanne Khan announced their decision to separate after 14 years of marriage, their fans were heartbroken. They never revealed what exactly prompted this decision. This led to several conspiracy theories doing the rounds. However, the ex-couple shut their detractors by remaining friends.
Far from being being cold and distant, Hrithik and Sussanne have grown closer as friends. From parties to film screenings to vacations, Hrithik and Sussanne have been spotted together more than often in the last four years. And despite the divorce, the two share a special bond and have stuck together as a family all this while, courtesy their kids - Hrehaan and Hridhaan.
Sussanne supported Hrithik during his ugly fight with Kangana Ranaut.
Hrithik shared a series of pictures of Sussanne taking photos of him, with their children at the beach. He captioned it, "Here is Sussanne, my closest friend (also my ex-wife) capturing a moment with me and our boys. A moment in itself. It tells a story to our kids. That in a world separated by lines and ideas, it is still possible to be united. And that you can want different things as people and yet stay undivided. Here's to a more united, tolerant, brave, open and loving world. It all starts at home."
Recently, Sussanne's father and veteran actor Sanjay Khan opened up on his daughter's divorce in an interview with a magazine and hoped that Sussane and Hrithik get back together. ""When people say that Hrithik is no longer my son-in-law, I say I have a relationship with him: he is the father of my grandchildren, and that can never be erased! So umm. I still hope they get back together."
On the work front, Hrithik will be seen in 'Super 30'. The actor will be seen in a completely different on-screen avatar and this is the first time that the actor will play a teacher on the reel. And his recent pictures show the kind of transformation he is undergoing in terms of hairstyle, beard and the overall look.
The film is set to release on January 25, 2019.