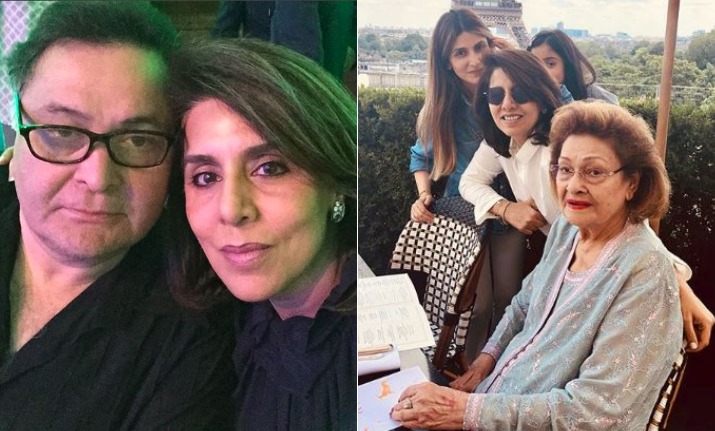 This week, the Kapoor family is suffering from immense grief as Krishna Raj Kapoor, wife of legendary actor Raj Kapoor, passed away on October 1. She was 87. The funeral was held on Monday which was attended by some of the biggest names of Bollywood including Amitabh Bachchan, Aamir Khan, Aishwarya Rai Bachchan, Kajol, Arjun Kapoor and others. However, amidst the funeral ceremonies, Ranbir Kapoor and his mother Neetu Kapoor were nowhere to be seen.
Krishna Kapoor Funeral Pics: Randhir Kapoor, Kajol, Kareena Kapoor Khan reach Raj Kapoor's bungalow
The real reason behind their absence was that they had accompanied Rishi Kapoor to the US for his treatment. The veteran actor had just left a day before his mother Krishna Raj Kapoor passed away. While leaving the country, he tweeted, "Hello all! I am taking a short leave of absence from work to go to America for some medical treatment. I urge my well wishers not to worry or unnecessarily speculate. It's been 45 years "plus"of wear and tear at the movies. With your love and good wishes,I will be back soon!"
Krishna Raj Kapoor Funeral Pictures: Amitabh Bachchan, Sonam Kapoor, Aamir Khan and others pay last respect
Talking about Krishna Raj Kapoor, she was complaining of breathlessness for some time. Her eldest son Randhir Kapoor told PTI, "My mother passed away at about 5 am today due to cardiac arrest...old age was another factor. We are deeply saddened by her demise."
Granddaughters Kareena Kapoor and Riddhima Kapoor were inconsolable at her prayer ceremony.