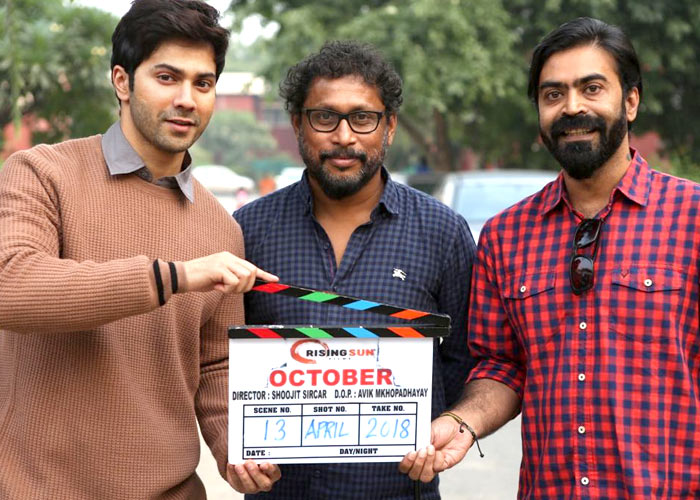 Sporting the look for his character in Sui Dhaaga, Varun Dhawan talks about Shoojit Sircar's movie October. Standing beside him is the gentle and soft-spoken person, the filmmaker Sircar himself. Sircar, usually doesn't cast an overnight star in his movies. When we asked him the reason behind taking the chocolate boy Varun to play the protagonist in October, he said that he casts according to the script. ''The way Juhi (Juhi Chaturvedi, the writer) wrote and described the character, the traits matched with that of Varun's personality.''
Wearing sunglasses of Shoojit Sircar, Varun recalls his shooting days in Delhi. ''It is a beautiful city. We have shot in Dwarka, IIT. I mostly enjoyed shooting in Vasant Kunj where the entire colony used to come down to watch.'' Varun was often been heard saying that October changed him personally and professionally. When asked about the changes, he said that for the first time box office collection is not the cause for concern. ''I want people to like it because this is the movie which touches you in a nice way. It will make people feel good and bring a smile on their faces,''said Varun.
Parijat flower adorns the trailer as well as the title, when asked the reason behind it, Sircar says, ''Parijat is called Shiuli in Bengali and the name of Banita's character is also Shiuli. In the same way, you will find connections between every small thing in the movie.'' Interestingly, Shoojit Sircar asked his cast not to check their mobiles after waking up. Instead, he asked them to watch a plant for 10 minutes. Varun said that this practice instils positive mood and gives you good energy for the rest of the day.
Shoojit Sircar said that October is not a love story, it is a story that touches sensitive and insightful aspects of love and relationship. He wants audience to experience the movie.
Watch the complete interview here:
For all latest news, keep checking our Facebook page