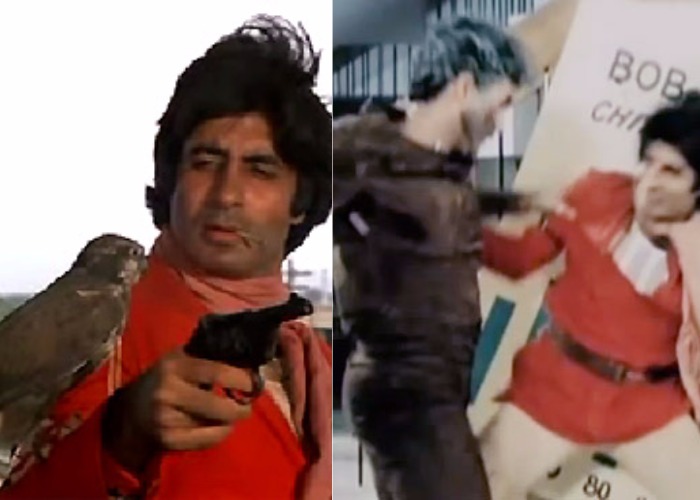 The film Coolie, which released in 1983, dominated the headlines even before the release. It was due to Amitabh Bachchan's near-fatal accident on the film sets. He was critically injured on 26th July 1982, while shooting for an intense fight scene with co-star Puneet Issar at Bangalore University campus. This almost took his life. Amitabh Bachchan revealed that this accident changed his life completely. It made such a bad impact on his health that the megastar is facing its aftermath to this day. 
When a fall went mistimed on Coolie set
In the fight scene, Bachchan was supposed to fall onto a table, but his jump missed the calculations. He suffered an abdominal injury. He was shifted to a Mumbai hospital where he went into a coma-like situation. Big B was also declared 'clinically dead' for a couple of minutes. 
While he was in the hospital, prayers and wishes from all around the country poured i. Rajiv Gandhi cancelled his trip to the US to be with him. 200 donors donated 60 bottles of blood, but unfortunately, one of the donors was infected by Hepatitis B virus. He recovered from the accident only to discover that the virus has resulted in liver cirrhosis. 
The cirrhosis damaged 75% of the liver. Amitabh Bachchan later spread awareness about the Hepatitis B vaccine. He recovered and resumed shooting on 7th January 1983. In the final edit, the fight scene during which he got injured was frozen and a message appeared marking the scene as the one which got him injured. Manmohan Desai did this edit on the suggestion of Amitabh Bachchan. 
Coolie's ending was also altered due to Amitabh's grievous injury. The original script had Amitabh Bachchan die after Kader Khan shot him. But in the later edit, Manmohan Desai decided to change the ending. The modified ending had the protagonist recover after his operation. Desai made the changes as he thought that it would have a negative impact on the audience, citing that Amitabh already recovered a near-fatal injury at that time. 
How this accident changed his life 
During the launch of Hepatitis B media campaign, Big B spoke volumes of the infamous accident which led to 75% damage of his live. Today, he is alive with just 25% of his liver. Speaking about the incident, he said: 
"Hepatitis B came to me accidentally. After my accident on the sets of Coolie, I was infused with the blood of about 200 donors and 60 bottles of blood were injected into my system. The Australian antigen Hepatitis B had only been detected three months ago and it was very new for being detected also among various tests needed to be carried out before giving blood to another patient. 

One of my blood donors was carrying Hepatitis B virus which went into my system. I continued to function normally till year 2000 and almost 18 years after the accident, during a very normal medical checkup, I was told that my liver was infected and I had lost 75 per cent of my liver. So, if I am standing here today, you are looking at a person who is surviving with 25 per cent of liver. That is the bad part.

The good part is you can survive even with 12%. But no one wants to get to that stage."  
Earlier this year, Abhishek Bachchan recounted the memories of that incident on Instagram. He posted the picture of his father surrounded by him and his cousins. This photograph was taken when the megastar was injured on the sets of Coolie in 1982. He recalls what his 6-year-old self went through when his father was battling this serious injury. He narrated a few incidents.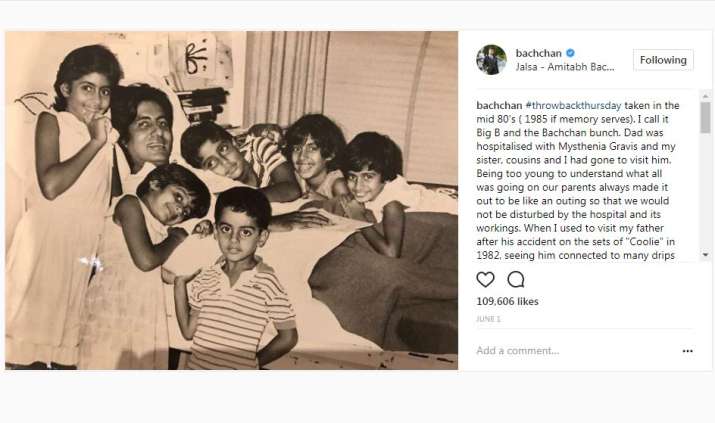 "Dad was hospitalised with Mysthenia Gravis and my sister, cousins and I had gone to visit him"
As the actor was too young to understand what happened to his father, he wrote, "Our parents always made it out to be like an outing so that we would not be disturbed by the hospital and its workings. When I used to visit my father after his accident on the sets of "Coolie" in 1982, seeing him connected to many drips and machines, he used to tell me they were kites that he had got for me. I was 6 yrs old. My father was fighting for his life and all I thought about was... why isn't he allowing me to play with these kites??? The innocence of childhood I guess"
Today, Amitabh Bachchan celebrates his 75th birthday with the entire world being more excited about it than the birthday boy itself. Truly, Bollywood has seen a number of superstars, but the megastar remains one and only Big B. He is the face that at least, four generations of India could recognise. He doesn't need an introduction; he is a brand in himself. Despite his old age, he's a big cheese of Bollywood. He's always on his feet at an age where a normal man could think about his retirement. He has won many hearts with his numerous stellar performances and will continue to do so for the years to come. 
Happy Birthday Amitabh Bachchan aka 'Iss Sadi Ka Maha Nayak'!