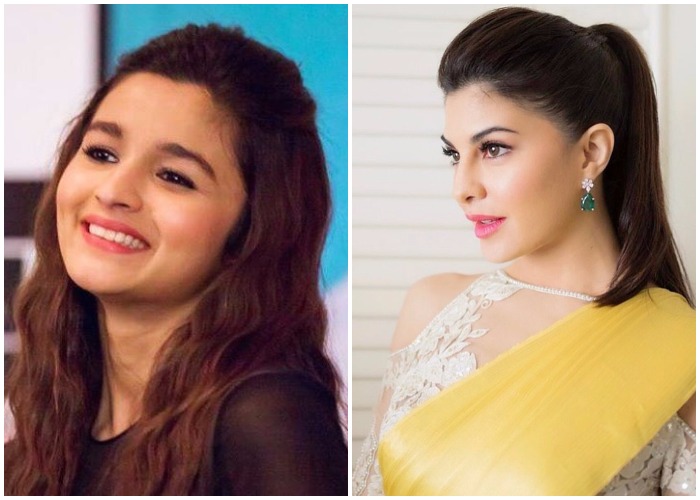 Rumours mills had been churning that Alia Bhatt and Jacqueline Fernandez are having a cold war over former's ex-beau Sidharth Malhotra. Jacqueline and Sidharth worked together in 'A Gentleman' and allegedly Alia Bhatt was worried due to increasing closeness of Malhotra with his co-star. Reports portrayed Jacqueline as the other woman between Sidharth and Alia. But the recent conversation between Alia and Jacqueline suggests otherwise. 
Jacqueline also spoke to DNA, where she said, "When these rumours started, initially, I was like, 'Theek hai, it's just a momentary thing and it will stop.' But it really started irking me when they got to the point of saying I unfollowed Alia. Then these rumours about a fallout between me and Alia started. I know she is very understanding and will know where this is coming from."
She added, "I picked up the phone and called her. I told Alia that I don't care what people say or mean, or how they judge me. They can think anything about me. But I do care about what she thinks of me. I spoke to her about this whole unfollowing incident, which is in no way the truth. I follow over a thousand people. Alia and I have so much banter on Twitter and I didn't even actually realise that I was not following her on Instagram. We are always having conversations on Twitter, so I was thinking, "Are people retarded? Don't they see all that?"
About Alia's reaction on the total fiasco, Jacqueline said, "Alia was really cute. She laughed and said, "Next time we meet, let's click loads of selfies and put them up! (Laughs) We planned to take over Instagram like that. We had a good laugh over it. But honestly, I don't like people coming between me and my co-stars."
She also cleared the air that she is not dating Sidharth Malhotra and she was tired of hearing dating rumours with her co-stars. Alia spoke to Hindustan Times and said that there won't be any break up patch up in her life as now she only wants to focus on her work. She, however, didn't comment about Jacqueline's equation with Sidharth. 
Jacqueline's latest film Judwaa 2 released on silverscreen on Friday. Alia Bhatt made an appearance in the special screening, which can also be attributed to her friendship with Varun Dhawan. She took to Twitter to appreciate the film, by tagging all the three actors Varun, Taapsee Pannu and 'surprisingly' Jacqueline too
#Judwaa2 is everything you imagine it to be and MORE!!! Fun, entertaining, adorable and aptly nostalgic!!@Varun_dvn you are sooooo good!!! 👏

— Alia Bhatt (@aliaa08) September 29, 2017
And adding to the madness @Asli_Jacqueline and @taapsee totally win you over😘😘😘This ones going to be hugeeeee!!!! ✌️✌️✌️

— Alia Bhatt (@aliaa08) September 29, 2017
Jacqueline was quick to thank Alia for her appreciation. She also wrote words like 'cutey' and 'Mwaahhhbbb' for the actress, which puts their rift rumours to rest, finally. 
Thank you cutey!!!!! So happy having you there yest!!! Mwaahhhbbb

— Jacqueline Fernandez (@Asli_Jacqueline) September 29, 2017
However, it is still not clear whether Alia is dating Sidharth anymore or not. 
Watch Judwaa 2 Review here: