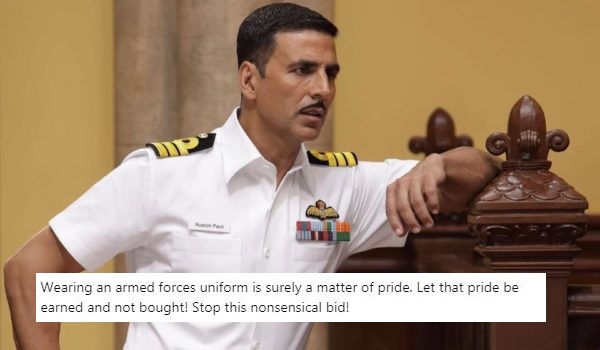 Internet can be a funny place sometimes. You never know which of your action might irk the netizen. And if you're a celebrity, you need to be extra cautious about what you're posting. It's really sad that some people just hide behind a fake username and profile picture and spread hatred on the profiles of the celebrities. Almost every celebrity has faced these vile trolls for one or the other reasons.
Recently , Twinkle Khanna and Akshay Kumar announced the news that they are auctioning Rustom's naval officer uniform for a noble cause. The money raised by the auction will be utilised in support of the animal welfare cause. However, this didn't go down well with thousands of fans who trolled the actors for this move.
Back in 2016, when Rustom came out on the silverscreen, it faced backlash for the inaccuracy of the naval uniform. A social media user criticised the actor for not getting the uniform right.
Bollywood can never get the uniform right. The horrid #Rustom (set in '59) is no exception. pic.twitter.com/t7NyaJaGdM

— Sandeep (@SandeepUnnithan) August 15, 2016
When Twinkle Khanna announced the auction of the naval uniform worn by Akshay Kumar in the movie Rustom, chaos ensued on social media. So far, the auction has raised Rs 5 crore. But this was something hard to be gulped down by a number of Twitterati. They slammed the actors for auctioning a uniform which is earned by hard work.
Hi all 🙋🏻‍♂️ I'm thrilled to announce that you can bid to win the actual naval officer uniform I wore in Rustom! Auction's proceeds will support the cause of animal rescue and welfare. Place your bid at https://t.co/6Qr0LRnTFm! pic.twitter.com/FF23tlogs1

— Akshay Kumar (@akshaykumar) April 26, 2018
Check out the comments by netizen on Twinkle Khanna and Akshay Kumar's post.
Bhai the piece of cloth you are trying to auction is not an Naval uniform ! Its given to you by your Producer! Armed Forces uniforms are earned with sweat and blood by toiling hard ! There are very few lucky ones who get to wear real uniform !

— MK (@iam_manishk) April 28, 2018
Very sad. The uniform is priceless. Hope you had understood this.

— Simanchalla Ranjit (@dr_simanchalla) April 28, 2018
Wearing an armed forces uniform is surely a matter of pride. Let that pride be earned and not bought! Stop this nonsensical bid!

— Arpita Singh (@WhatAHeavyBag) April 28, 2018
Who give authority to the Canadian actor to auction Indian Armed forces uniform😠😠😠😠😠

— Howdy Rowdy (@rahutrue) April 28, 2018
First time in 70 years now indian naval officer uniform is on sale, who has given you the authority to auction navy office dress? Stop this nonsense act.

— Shivam Rai 🇮🇳 (@shivamrai) April 28, 2018
Dear Akshay, this is not honourable. We don't auction our uniforms. They deserve lot if respect.

— Nisheeth_Singhal 🇮🇳 (@NiniHala) April 28, 2018
A soldier's uniform is not to be auctioned. It is something which is earned by hard work and dedication towards the country. Not anybody can buy it

— sonia sharma (@sonia3785) April 28, 2018
R u kidding me? U r not a soldier to own a uniform. If u were, u wouldn't have thought of auctioning it in public. I think u need some training on patriotism which u keep boosting in your movies to make more money. It's not just piece of clothes. It's an honor of the country.

— Vaishali Shah (@vaishaliauthor) April 28, 2018
Similar response was seen on Twinkle Khanna's post.
Stripes not being worn correctly. If he was in Navy he would have to pay for two beers to the officer who would have checked him.

— Ashwani (@AshwaniSachar) April 26, 2018
ha sena ki bardi bhi bechh k khaloo..kam padd raha ho to ☺️

— Captain_ShiJin (@Ct_ShiJin) April 26, 2018
drop one foreign vacation and you don't have to worry about bidding.

— Arindam (@arindam8609) April 26, 2018
On the work front, Akshay Kumar will be featuring in Gold and Kesari. Mouni Roy will be acting alongside the superstar in Gold, which is slated to release on Independence Day this year. Meanwhile, Parineeti Chopra has been roped in as the female lead in Kesari.