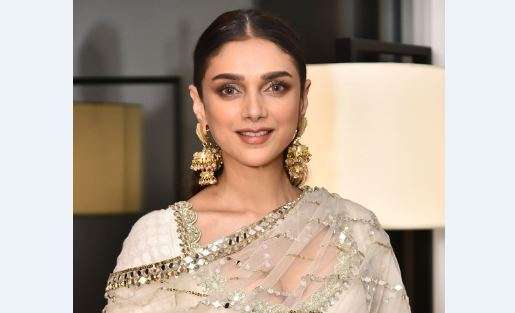 Actress Aditi Rao Hydari, who received rave reviews for her brief yet evocative role as Mehrunissa in Sanjay Leela Bhansali's period drama Padmaavat, says that dreams do come true if guided by right intention. As she is currently living her dreams, Hydari also feels she has guardian angels.
"I think every film and every experience helps you grow and learn, I would say Mani Ratnam's film and Padmaavat made me believe that if you have a dream and your intentions are guided by that dream then it does come true," Aditi said. She continued: "They are legendary directors and for me with no backing to be living that dream has been so fulfilling (that) I feel blessed... I do know that it makes a difference to one's career to have experiences like these and I am grateful for them. I am convinced I have guardian angels."
Aditi was speaking on the sidelines of the launch of designer Abhinav Mishra's latest fall 2018 collection Phiroza. The collection is an amalgamation of heritage and contemporary fashion, reflecting designer's mission to create clothes for the young globally inclined Indian women, who are in tune with the international sensibilities of fashion and style while being honest to their own ethnic aesthetic. The actress who found the collection "really pretty, regal and elaborate" , looked like a royalty in a creation made by the designer. The outfit was named Mehrunissa after her character in Padmaavat.
When asked if she feels that she has finally arrived in Bollywood just like she is known for her fashion sense, she said: "I don't even think like that, these things are for others to say. I'd rather put my energy and love into my work, the people I love and living and loving every second of my life." 
"I don't like to shout about myself from the roof tops. Firstly a director and the whole team has made it happen for me, secondly, there is so much noise, why shout above the chaos?.... I'd rather keep that energy for when I'm in front of the camera." 
So which roles are closest to her heart? "I loved playing Leela in Mani sir's love story ( Kaatru Veliyidai ). It was an epic and fraught love story...I've loved playing Mehrunissa, I felt lucky to have been picked to play such a beautiful person...And my most recent Sammohanam in Telugu which is a huge success and still playing in theatres... 
"I always wanted to do films like My Week with Marilyn, Notting Hill and Roman Holiday so I jumped at this opportunity"
The actress says that she likes roles that have character. "They (heroines) can be feminine, vulnerable but also are strong and fearless. I am drawn to characters like these. I think we have to be the change we want so as girls in the industry, we are pushing for the change and I hope industries all over India push for this change... not just us girls! Women are an integral part of any story real or reel," she said.
Aditi is currently busy shooting for Mani Ratnam's next film along with a film directed by Sankalp Reddy. This will be Hydari and Ratnam's second collaboration.
(With IANS inputs)
For all latest news, keep checking our Facebook page