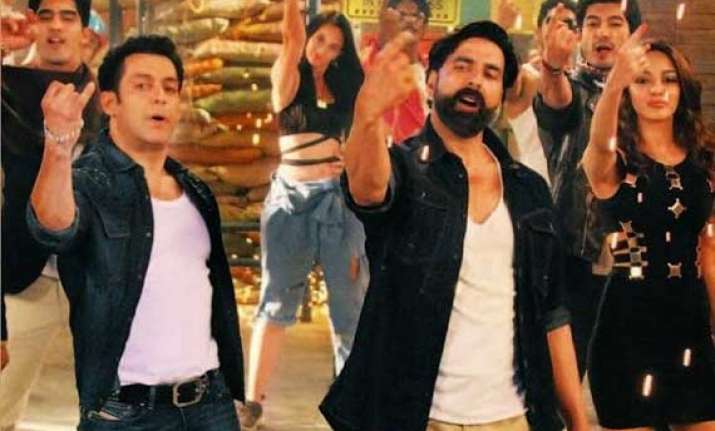 New Delhi: The first song Fugly is here and the 'Mujhse Shaadi Karogi' and 'Jaan-e-man' co-stars Akshay Kumar and Salman are making heads turn with some impeccable signature moves.
Though both the actors are featured in the video song, it's Akki who takes most of the frames and doesn't disappoint his fans with his attitude.
The song also features the three lead actors of the flick Mohit Marwah, Kiara Advani, Arfi Lamba and Olympic bronze medal winner Vijender Singh who jel well alongside the two superstars.
Now, since it's once again our youth icon-rapper Yo Yo Honey Singh track, you are bound to fall in love with the beats and lyrics which this time is mostly satirical yet narrates the humourous issues of the society.
Lines like "377 Hatna ya Jessica lal ki ghatana", Likhna lal qile pe lav you are phir se likhega to bishum" are surely to go down well with the youngsters.
But we have to wait and watch for initial response of the music lovers. Directed by Kabir Sadanand, 'Fugly' also features Jimmy Shergill and is set to release on June 13th this year. Till then, enjoy this Fugly track.