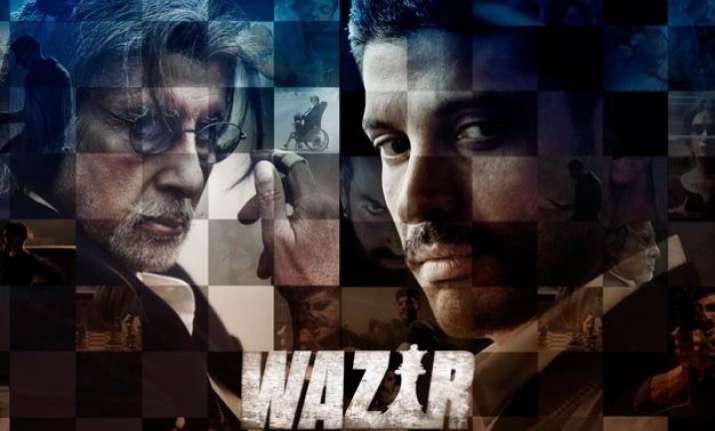 Rating: **(2/5)
Helmed by talented director Bejoy Nambiar and written by Vidhu Vinod Chopra and Abhijat Joshi, 'Wazir', which features Farhan Akhtar and Amitabh Bachchan in pivotal roles, was expected to be a perfect opener for 2016.
However, expectations seem to be an often misused word in our times.
Wazir traces the story of a guilt-ridden ATS officer Danish Ali (Farhan Akhtar) who holds himself responsible  for the death of his daughter. Danish finds a friend and philosophical guide in wheel-chair bound Omkarnath Dhar (Amitabh) who has himself gone through the trauma of loss of his loved ones.
Omkarnath believes welfare minister Izaad Qureshi (Manav Kaul) killed his daughter and wants to channel Danish's anguish to avenge his own daughter's death.
When asked whether he has any proof, an overconfident Omkarnath replies, "Saboot uski aankhon me hai". Danish believes him and sets on a journey to seek the truth.
The plot may lead you to believe that the film lacks the gravity it promises. But, there is more to the film than it looks from the surface.
The central character is a brooding rook even with his flaws is righteous. Then there is a desperate pawn who has nothing to lose. A dead princess suffices the need for a queen and then there is a dangerous bishop, Wazir, who gets the film named after him.
Despite the intrigue that the film manages to develop to a certain extent, Wazir fails because it makes desperate attempts to look deceptive but never gets outsmarting enough. The twists are quite bland and could easily be guessed.
Omkarnath and Danish have loads of  'Chess pe Charcha' in the film where they draw parallels between chess and real life with dialogues revolving  around "baazi (challenge)", "ghoda (horse)", "haathi (elephant)", and, of course, the "wazir (rook)"  
Even with its predictability, the film manages to gather momentum in the beginning only to lose it to a sluggish second half – as if testing the patience of the audience.
Farhan gives a measured performance as the guild-ridden officer seeking redemption in avenging the death of his friend's daughter. However, his character lacks vigour or perhaps the script did not do justice to his talent. Though the sunshine of the film is the wheel-chair bound Amitabh who shows how one can evoke the strongest of emotions without moving the body.
His mannerisms, spontaneity and homilies are the only things that manage to keep the film alive.
Watch the trailer Here