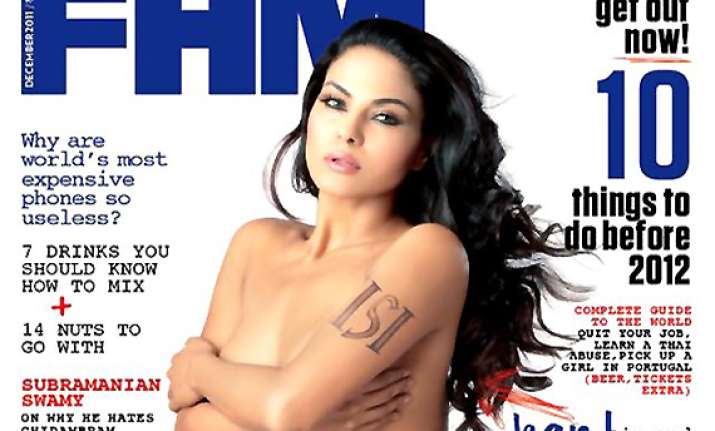 Mumbai, Dec 6: Pakistani actress Veena Malik alias Zahida has filed  complaints with Mumbai Police Cyber Crime  and Bandra Police saying that her nude picture was morphed and put on internet by the publishers of FHM magazine.

In her letter to the police, Veena Malik said the FHM editor and photographer have caused "irreparable harm to her reputation" in order to defame  her with "ulterior motive".

Veena Malik has demanded action against FHM India editor Kabeer Sharma and photographer Vishal Saxena under IPC and Information Technology Act.

"At all times, I had my clothes on, when the images were taken", she wrote in her letter.

Veena Malik has asked the police to register a case under section 292, 293, 294 read with 415, 420, 499 and 500 of the Indian Penal Code against Maxposure Corporate Media (India) Pvt Ltd, Kabeer Sharma and photographer Vishal Saxena.

 


Meanwhile,  Kabeer Sharma, the editor of FHM India magazine on Monday tweeted that he would release a series of photos from the shoot with Veena Malik to prove his  version of the story.

Sharma told AFP  that Veena Malik's nude pictures have not been photoshopped.

"Maybe she is facing some kind of backlash, so maybe that's why she is denying it.

"We have not photoshopped or faked the cover. This is what she looks like, she has an amazing body," Sharma said.
 
Sharma said the idea of using the ISI tattoo  had been to take an ironic swipe at India's obsession with the Pakistani spy agency. 

A tag line on the cover which points to the initials, reads: "Hand in the end of the world too?"

"People, especially young people in both countries, want to move past this kind of thinking," the editor said.

"It's a very powerful picture—it took a lot of guts for her to do that. It shows a powerful, sexy woman not afraid to speak her mind."
 
On Sunday, Veena Malik  sent a Rs 10-crore defamation notice to the publishers and photographer of FHM magazine for publishing what she says a morphed picture of her in the nude.

In the notice sent by her lawyer, Veena Malik emphatically stated that she did not pose in the nude and the pics were morphed. 

Moreover, the pictures showed to her for consent to publish were not the ones published in the magazine.
 
The magazine's December issue has yet to hit news stands. But a preview of the cover on its website has triggered a media frenzy which intensified when actress Veena Malik denied posing nude and accused FHM of doctoring her image.
 
Speaking to Pakistan's Geo TV Veena Malik insisted the nude photos were faked.

"I agreed to a photo shoot and having an ISI tattoo in a humorous way but I did not have any nude photos. My pictures have been morphed," she said.
 
The lawyer's notice also clarifies that she was given to understand that the ISI tattoo on her arm was not of the Pakistani espionage agency, but similar abbreviations of Indian ISI standard mark. "There are 56 institutes named ISI all over the world", the notice states.