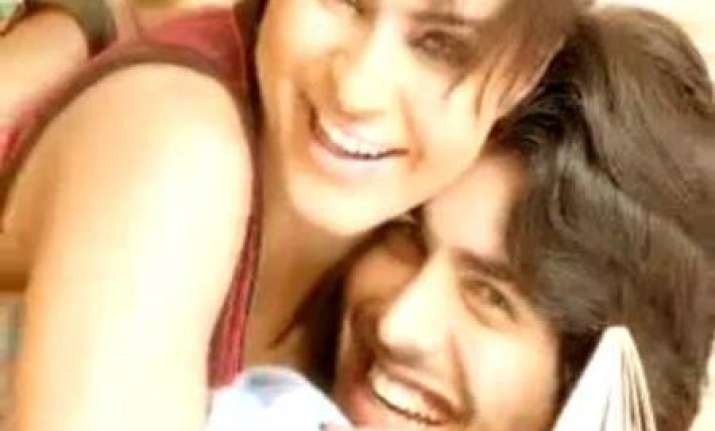 As people in India saw the sizzling on-screen chemistry between Pakistani actor Veena Malik and Indian actor Ashmit Patel in Bigg Boss4, report has come in that Veena had actually "promised" marriage to her Pakistani boyfriend and fellow actor Babrak Shah before suddenly ditching him, says a media report.
"Of all the boyfriends that Veena has had, Babrak is the only one who has agreed to marry her. Babrak stood by her through thick and thin but Veena didn't even think twice before flinging herself into Ashmit Patel's arms in the reality show," says a close friend of the actor.
However, there are sources that claim the couple had been having trouble ever since the scandal with former Pakistani cricket player Mohd. Asif broke out and Asif apparently claimed to close friends that Veena provided escort services to him.
 "The couple had been dating and was frequently spotted everywhere. They were going through ups and downs until the scandal broke out and Veena decided to encash on the scandal and participate in the reality show," the source adds.
Veena cannot communicate because she is locked up in a house for a reality show but according to Veena's media manager in Pakistan, Rashid, Babrak is a close friend of the actor and they appeared in a Punjabi film, Mohabbatan Sachiyan, alongside newcomers Maria Khan and Adnan Khan. The film is the only commercial success in Veena's career.
"Shahzad Rafiq's blockbuster Mohabbatan Sachiyan proved a milestone in Veena's career as it was a solo heroine project. Her performance in the film was applauded widely, throughout the country and abroad. That's why a number of other projects fell on her lap," admits Veena's spokesperson in Pakistan.
Sources say that Veena's denial about her relationship has irked everybody close to Babrak.  
"Most of the films that Veena has done in Pakistan are flops apart from the film that she did with Babrak. If you search on the net, there's a video of Veena publicly kissing Babrak. The relationship had gone through a few rough patches but Babrak has always been in love with Veena. It's a pity that Veena doesn't acknowledge their relationship," the source adds.