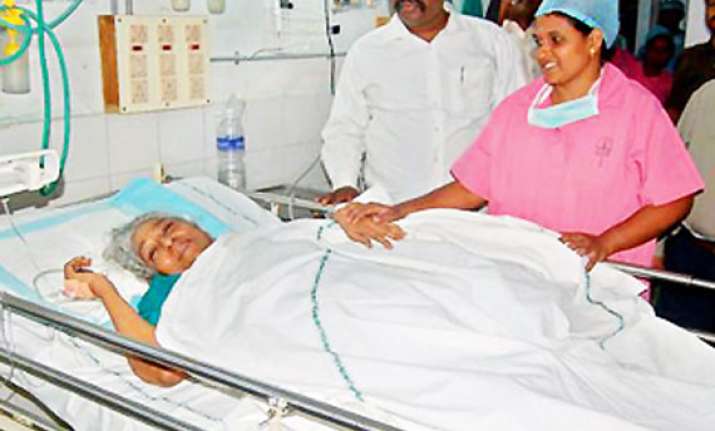 Tirupathi, Feb 8: Veteran playback singer S Janaki was hospitalised on Tuesday  in Tirupati after she accidentally slipped in her hotel room's bathroom. She was in the city for a felicitation ceremony.

Janaki tripped and fell on the hinges of a door and suffered bleeding injury on the hind side of her head, just above the neck. She was immediately rushed to the Sri Venkateswara Institute of Medical Sciences (SVIMS) Hospital for treatment.

The doctors reportedly removed the blood clot and treated the wounded portion with five sutures.

Though a diabetic, her sugar and blood pressure levels were under control, according to the team of doctors treating her.

Brushing aside media reports about the veteran singer, slipping into coma, her son Muralikrishna said his mother's condition was stable.

Speaking to the media outside the hospital, her son Murali Krishna said that his mother was recovering well.

"Doctors told me that there is nothing to worry. We are hoping that she becomes normal soon," he said.

The singer, who is 73 now, is one of the most prominent singers in South India and has been singing for more than five decades. She has sung in all the South India languages, Hindi, Sinhalese, Oriya, Bengali, Japanese and German.