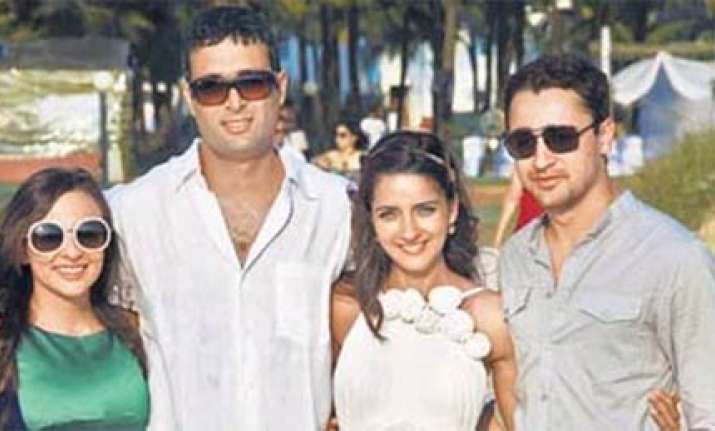 Actress Shruti Seth married Break Ke Baad director Danish Aslam in a ceremony in Goa over the weekend, says a media report. Close friends attended the bash. It was three days of fun and revelry, with only a few close friends being invited. Kunal Kohli conducted the proceedings.  
Among those who attended the wedding were Imran Khan, Avantika Malik,
Deepika Padukone
, Siddharth Mallya, Maria Goretti, Mini Mathur, Gul Panag and VJ Yudi. 
Kunal Kohli conducting the proceedings; Danish Aslam and Shruti Seth with Imran Khan and Avantika Malik and Deepika Padukone and Kunal Kohli While Imran flew down from Chandigarh where he's shooting for a Yash Raj film, Deepika flew in from Mumbai with boyfriend Siddharth.
Kunal confirms, "It was three days of complete fun and madness. Danish and Shruti had a conventional court marriage before, but this wedding in Goa was unconventional in every sense. 
"I had the honour of conducting the wedding. It was quite an experience because I have never done this in the past.  I took some time to read up on the Internet how one conducts a wedding. While they exchanged their personal vows I also wrote down a few lines for the couple."
He adds that it was unlike any wedding he'd attended, "The setting was this quaint little garden, just off the beach. Since it's Goa, the weather was amazing.  
"Both the bride and groom's sides made their entry with song and dance.  Since Imran wasn't present for the rehearsals, he took some time to match his steps at the wedding. The best part was to have the entire cast and crew of Break Ke Baad at the ceremony." However, producer Kohli hasn't 'sanctioned' any leave for the newly-wed director for his honeymoon.  
"I asked him to resume work from Tuesday.  There will be time for a honeymoon, but now's the time to focus on the film. It was his dream to make this movie and I am glad he could make it happen."