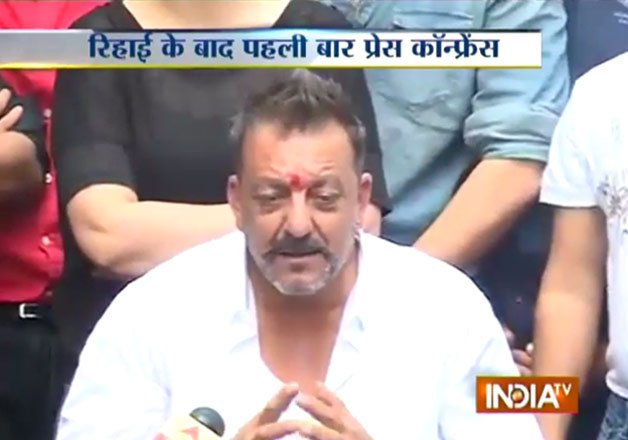 New Delhi: Bollywood actor Sanjay Dutt is a free man today. The actor was serving a sentence in Pune's Yerwada Jail, after he was convicted under Arms Act.
It was indeed a tough time for the 'Munnabhai' actor; and obviously he is quite happy that he is finally out of the prison.
On reaching Mumbai Sanjay Dutt visited the Siddhivinayak Temple soon after his release.
The actor also interacted with the press for the first time post his release from the Yerwada Jail.
During his media interaction, Sanjay Dutt shared his feelings about his last day stay at Yerwada Jail.
The actor confessed that that he was really anxious to be out jail. Sanjay not just had sleepless last night in prison, but he also didn't eat for four days because of his anxiety.
The 'Khalnayak' actor confessed how he was counting minutes and was eager to meet his family.
While talking to media Sanjay also stated that he has been waiting for this day from last 23 days. The actor, who was missing his father today, feels that to be free is the most amazing feeling.