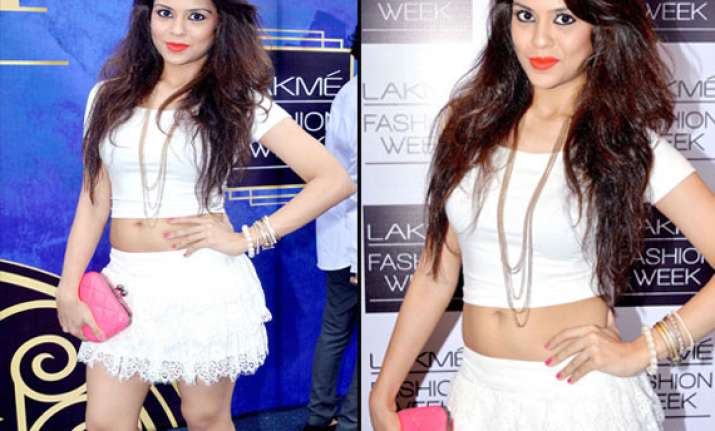 New Delhi: The on going Lakme Fashion Week is seeing B-towm celebs in full attendance. More than the models the focus this year has been on the celebs who are giving each other a run for their money.
Tinsel villa's actresses are going all out to flaunt their fashion sense this season. The third day of the fashion week saw B-town actresses showcasing their best wardrobe (or that's what they thought). While some nailed the right look with the perfect accessories and make up, for some it was a desperate attempt to steal the limelight which failed.
Sana Saeed, the famous Anjali from Kuch Kuch Hota Hai had donned a tiny white skirt with white navel showing top, which completely exposed her midriff. Not only that, the miniscule piece of clothing was teamed with bright bubblegum pink stilettos and the same colour clutch. And people it doesn't end there, to complete her "look", she chose to wear a bright red lipstick.
Sana you might be still riding high on fame but clearly wearing skimpy clothes doesn't guarantee good style.
Not only Sana, the famous singer, Anushka Manchanda looked as if she had taken leave of her dressing sense. While we think that one should keep experimenting and evolving with their style, this black and white dress (or whatever you call it), we thought was going a little too far . Don't you think?