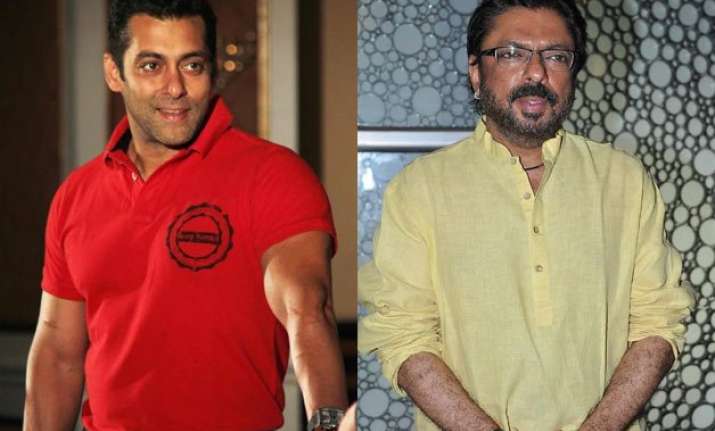 New Delhi: It seems Salman Khan is on a revenge taking spree these days.
The 'Bajrangi Bhaijaan' actor was recently blamed for the failure of Aishwarya Rai Bachchan's comeback film 'Jazbaa'.
If the media reports are to be believed, it is Salman Khan's 'Bigg Boss Nau' which stole the business from Aishwarya's 'Jazbaa'.
And now the actor has his target set on Sanjay Leela Bhansali.
Reportedly, Sanjay Leela Bhansali wanted the trailer of 'Bajirao Mastani' to release with Salman Khan's upcoming film 'Prem Ratan Dhan Paayo' which will be released on 12th November 2015.
However, Salman Khan is giving a hard time to Bhansali as he has rejected the latter's proposal, saying that he won't allow the trailer of 'Bajirao Mastani' to be attached to any of his films.
This is not the first time Salman has created troubles for 'Bajirao Mastani'. Earlier as well, when Eros International released 'Hero', the trailer of Bajirao Mastani was to be attached to it; since Eros is co-producer of both. But Salman put his foot down that time also.
Salman Khan doesn't share a cordial relation with Sanjay Leela Bhansali. Apparently, Salman and Bhansali got bitter in their terms after Bhansali cast Shah Rukh Khan for 'Devdas'.
While currently Salman and Shah Rukh share a smooth relationship, he hasn't forgiven Bhansali for his so called 'betrayal'.
Interestingly, when Salman was approached to release the trailer of SRK's 'Dilwale' with 'Prem Ratan Dhan Payo' he instantly gave a nod to it.
It seems while Salman and SRK have turned friends now, Bhansali's alleged 'betrayal' to Salman Khan is costing him a lot. Let's see how this setback affects 'Bajirao Mastani'.