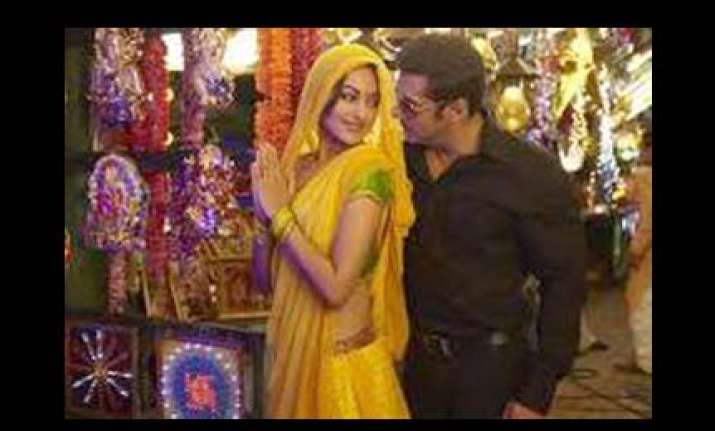 Bollywood  is abuzz with reports of Salman Khan's breakup with Katrina Kaif and his ever increasing closeness with 'Dabangg' co-star Sonakshi Sinha. Shatrughan Sinha's daughter Sonakshi,  who is in total awe of Salman, is on a high about getting into the league of the hot star, says a media report.
In a recent interview, when asked about her equation with Salman, Sonakshi said, "Salman is a wonderful person. I am inspired by him in a lot of ways. Right from my fitness regime to my painting fascination, its all because of Salman," the young actress blushed.
Sonakshi also shares a beautiful relationship with the 'Khan'daan. "I have known them since sometime now. They are very warm people but I am very close to Alvira. Even the kids are cool. I am great pals with Alvira, Arbaaz and Sohail's kids. It's fun to have them around," the actress revealed.
It is interesting to notice that though Sonakshi is quizzed about Salman at every media interaction, she shows not a single sign of discomfort.
In fact, at one instance when she was asked to comment on her intimacy with the 'Dabangg' hot star Sonakshi gushed, "You know what? Salman's family keeps telling me that now I have become Sonakshi Khan." Ofcourse, the actress was just talking about the great bond she shares with Sallu and family, but do we see this relationship turning into something more? Only time will tell..