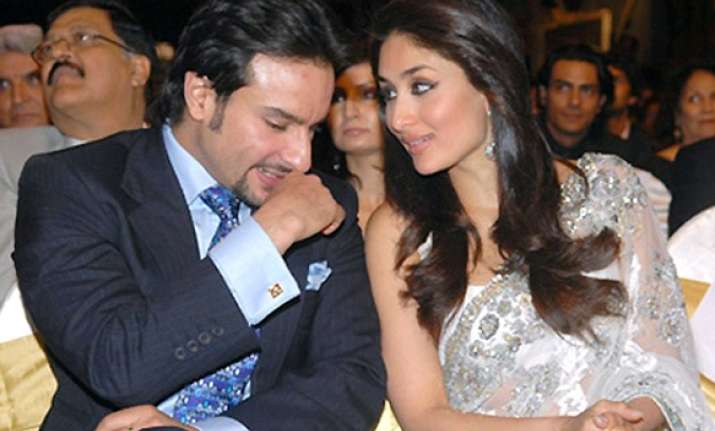 Saif Ali Khan's sister Soha says her brother  and Kareena Kapoor are happy together.

Asked whether, she, Saif and  girlfriend Kareena will ever come together for a film in future, Soha told Times of India:  "No! I can't even imagine what that film would be like," she says and adds, "I am glad that Saif and Kareena are in love and happy together. But when they choose to get married, is up to them. Their marriage is not going to affect my career in any way."

Asked about marriage, she said, "I have no marriage plans yet. In fact, I don't have any plans for life."

Asked whether she would venture  into south Indian films, Soha said: "I have done Bengali cinema, but I don't know about the south. Some of the best directors in the country are from the south. If I am to work here, the director has to be good, someone from whom I can learn a lot. But for me to do a film, it's important that I know the language." 

Said Soha about her stint on TV:  "I did a game show earlier and found working for television great fun. But I should get the right show. I want to work with someone like Siddharth Basu from whom I learnt a lot during my last outing."

Soha is currently busy with three projects — Soundtrack, Chemistry and Deepa Mehta's Winds of Change, the film adaptation of Salman Rushdie's Midnight's Children.
 
Says Soha: "In Soundtrack, I play a woman who is hearing impaired. My teachers from the Helen Keller Institute made sure that I got the sign and body language of a hearing impaired person right. It took time, but we finally did it."

The best way to describe her character in Chemistry, said Soha,  would be as a blend of Dev Anand and Charlie Chaplin.
 
"Initially, I was little confused by that. I play a tomboy whose ego has taken a beating after being dumped by her boyfriend. She is full of herself, is mad, has red hair, and wears bizarre clothes. She is not worried about anything," says Soha, who remains tightlipped about her role in Winds of Change.