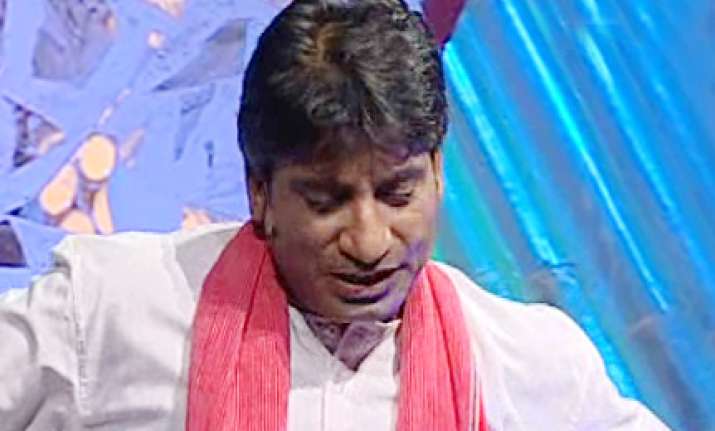 Rip-roaring comedian Raju Srivastava may have to leave the popular reality show Bigg Boss 3 by Movember 1, if a legal notice sent to him by Sri Adhikari Brothers is to be believed. 
Sri Adhikari Brothers owner Markand Adhikari said: "Raju is under contract with us from November 1. So he has to quit Bigg Boss 3. Besides he has not taken permission from us". 
At present, Raju is the main TRP driver for this big budget reality show, in which Amitabh Bachchan plays as the Bigg Boss. Without Raju, the show may flounder, say sources close to the channel. 
After Kamaal R Khan's unexpected exit from 'Bigg Boss 3', the owners of Colors entertainment channel got a notice from the Information and Broadcasting Ministry objecting to certain visuals 'offending good taste and decency that was unsuitable for unrestricted public exhibition'.
The channel has been asked to reply within five days. In the visuals, two female participants pulled down the shorts that Raju was wearing. Though these visuals were not telecast on Colors, the rushes of the show were sent to news channels, who went to town with it. 
The notice says: "It has also been observed that the language used by some participants is vulgar and abusive and the show contains visuals which appear to be obscene and violative of the programme code. Recently, in one of the visuals, a participant has been shown pulling down the shorts of another participant," the notice said, adding this had offended the sensibilities of many viewers.
Since the programme was being telecast on prime time and was watched by families including children, it could also have a negative impact on young impressionable minds and did not appear to be suitable for unrestricted public exhibition", the notice said. 
Meanwhile, Sri Adhikari Brothers have sent a legal notice to Srivastava asking him to be present for shooting of a show for their channel 'Masti'.