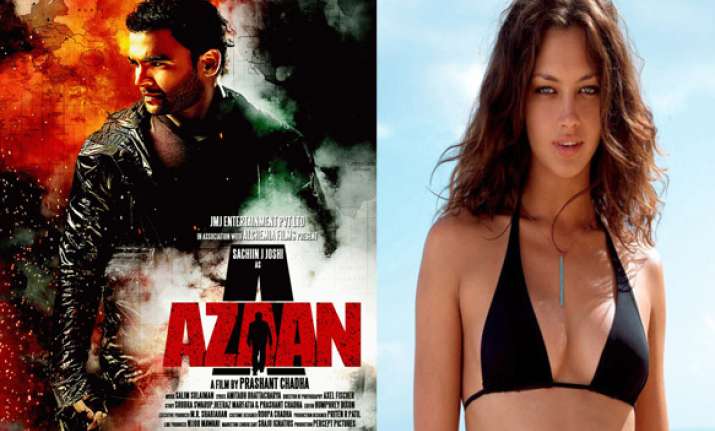 Mumbai, Feb 14 : Legendary Pakistani soul singer Nusrat Fateh Ali Khan immortalised Lisa Ray in the music video of the evergreen song Afreen Afreen. His nephew Rahat Fateh Ali Khan was to render a soulful version of  the same song for Sachin Joshi's Azaan  that is gearing up for a June release, reports Hindustan Times.
The first look of the film - which is about a country, a conspiracy and a common man — has already been unveiled.  "The neo-patriotic theme sparked off the idea of a Republic Day opening," admits director Prashant Chadha.
Azaan's Afreen… is a brand new composition that will play in the film in three versions.
Scored by Salim-Sulaiman and sung by Salim, one of the versions was filmed in Morocco recently featuring Candice Boucher, the cover girl for the April 2010 edition of Playboy.
Two more versions will be sung, a slow, sad one by Khan and another by Salim with an Arabic singer, perhaps Khalid, on the lines of Sting's 'Desert rose…'
While the original song was shot amidst sand dunes, this one takes off in the royal palace in Tangiers, Africa, moves through the Spanish square and the library to the rocks for a panoramic view of the harbour and ends in the beautiful gardens of the Italian consulate, with street shots and a stopover at the old city 'souk' (market).
"We filmed it over three days and while scouting through the city, I noticed that because Tangiers is at the tip of Africa and was under French influence for 40 years, there is an intriguing mix of Middle-Eastern and European beauties there. So Candice with her blond hair and blue eyes fit in well," reasons Chadha.
The South African model will make her Bollywood debut in Azaan, and Chadha promises that his Afreen will be as gorgeous as Ray: "I was assisting Mukul Anand on Dus back in'96 when I met Lisa for the first time. She was beautiful! I still remember her blue-green eyes from Nusrat saab's 'Afreen Afreen…' Now you will remember Candices' blue eyes."