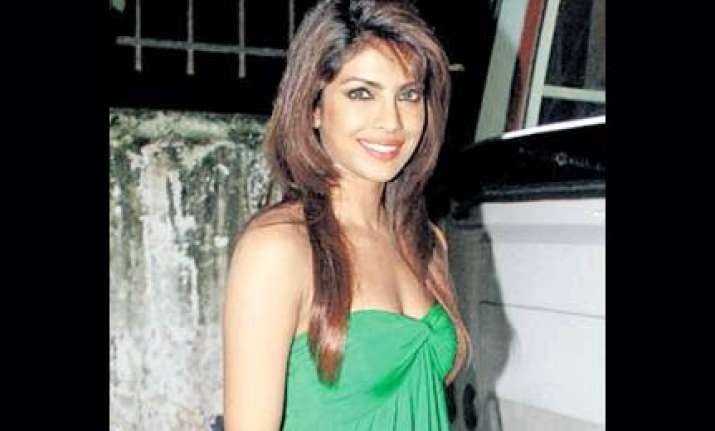 Bollywood actor Priyanka Chopra would be shooting in Brazil for Fear Factor. She has never visited that part of the world. And she's all set to leave in July, says a media report.
Says Priyanka excitedly, "I'm looking forward to shooting the show there. I haven't seen Brazil. So July onwards I'm going to be basking in Brazilian territory."
Says Priyanka, "I was getting a lot of television offers for the last couple of years. But the amount of time that those shows required didn't suit me. Besides nothing excited me. Fear Factor is one of my favourite shows . And it goes with my personality. I'm sporty and spontaneous. The channel didn't have to convince me much. The pay-cheque? Ah,let's say it's the cherry on the icing."
Priyanka says she will be more than up to cracking what's seen to be a male domain. "Just because I'm a girl it shouldn't be presumed that I can't enter the boys' territory. I'd do the stunts better than the boys.And cricketers are people I'm very cool with. Not that I know the cricket world that well.It will be great getting to know them."
Priyanka has her own stunts planned for Fear Factor. "All I can tell you is that the stunts this year are going to be bigger and scarier than they were on the show last year .Now we've male contestants instead of female and I've to match up to them."
Priyanka has just returned from two months in the US shooting for Anjaana Anjaani. "It was great shooting with Ranbir. It was a fun film. I enjoyed that space after doing soul-sapping parts. We've captured the US like never before."
Priyanka shoots down rumours regarding Ranbir and she. "I don't want to react to link ups. When there's something I'll react to, I will. Ranbir and I got along very well. He's good actor and a lovely person."
Co-stars are not Priyanka's top priority. "It has to be the part that excites me. That's most important. Then the set-up and finally the co-actor. So far I've been lucky. The parts that are coming to me are wonderful. It's very difficult for me to pick and choose from the ones offered. I'm really grateful to directors who see me as capable of carrying off these parts."
Talking on her passion for tweeting Priyanka says, "I write directly to people.Not just about my films, but also about my thoughts and feelings. People like that. I get great opinions on me as an actor and a person. Otherwise actors end up only having sycophants around them . I like having people around me who keep me grounded."
In San Francisco Priyanka visited the Twitter headquarters. "They invited me. I was very excited to go. They were all open to ideas and exchange of thoughts. It was a nice interactive session . Am I looking at extending myself beyond acting? Well I'm an actor right now. I don't plan too much ahead. Whenever I do, God makes other, better plans for me. I do have facets to my personality that I'm discovering all the time. For me even getting to know the actor in me was a learning experience. I got to learn on the job .I've fallen hurt myself got up battered and bruised and moved on."
Priyanka is also looking forward to the stunts in Don 2. "But they won't be an extension of my stunts on Fear Factor. Fear Factor will be ME . For the first time people will see the real me.The real personality coming through.And that's what I fear in Fear Factor.Not the stunts. I've always done outdoor stunts whether it's bungee jumping or mountain climbing. I've an affinity to danger."
As for Saat Khoon Maaf Priyanka says, "I accepted it for Vishal Bhardawaj. It's a role of a lifetime. And he has the confidence in me.I just plan to walk through the role in Vishal Sir's feet. And I've seven different looks for the role. The people who did the makeup in The Pirates Of The Caribbean are coming down formy looks.Yes I've already worked out a different looks for each segment."
Priyanka is satisfied with her career. "I work very hard and then I leave it to God. When I went up to the President to get my National award I was choked with emotions. It was such an overwhelming experience when I was told I was one of the youngest to win in the adult category. I cried when I walked off the stage. I'm glad the jury could see my performance in Fashion in spite of the glamour and gave me the award out of all the wonderful performances during the year.
Priyanka's father released his devotional album on Saturday. "We collaborated on his shabd kirtan album with a save-the-girlchild campaign . The girl-child is a very important issue for me."