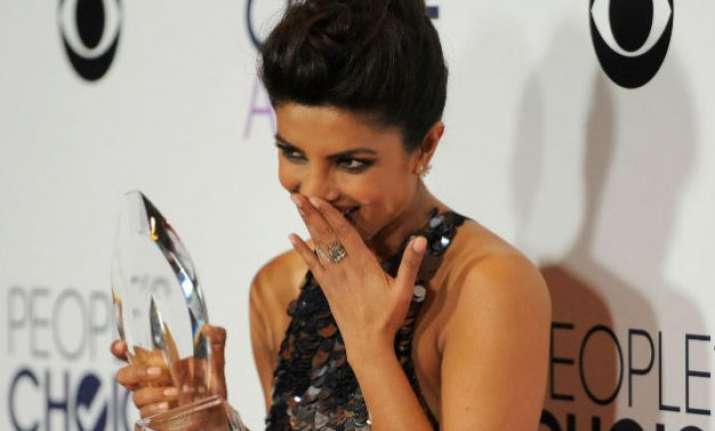 New Delhi: Actress Priyanka Chopra is riding high on success. Her journey from a beauty pageant winner to becoming India's most sought after actress; was as it is an exciting one. However, she did not stop there. Perhaps, she knew well before any of her admirers that sky is the limit.
The talented desi girl made her big win at the People's Choice Awards, for her role in ABC's series, 'Quantico'. The Indian beauty plays the role of FBI recruit Alex Parssish who gets in middle of controversies.
She has joined the A-listers of American TV actresses, after winning the favourite actress in a new TV series award. Definitely, this made her feel on top of the world.
If the sight of Priyanka holding the prestigious trophy was not enough to hike your excitement, her statements after winning will do it for you.
While talking to a leading daily, PC had the perfect response to quirky questions.
Q: Her reaction on getting the award:
A: I felt like Miss World all over again. I know my daddy is looking down at me and smiling.
Q: Why did you choose such a shimmery outfit?
A: I landed in LA in the morning after a 14-hour flight. My team had 200 dresses laid out for me. I decided to go as a disco ball.
Q: How did you deal with nervousness the night before the award ceremony?
A: Being a Hindi film actor for 13 years has trained me well, giving me the confidence to accept victory and loss with a smile. Award mila toh theek hai, nahi mila toh koi baat nahi… That's the attitude I went with.
Q: How did you feel on bonding with Hollywood biggies during the show?
A: I was very comfortable around John as I had met him last year, when I was prepping for 'Quantico. Then there was Ellen Pompeo who I am fond of and have grown close to feel fortunate to be standing alongside amazing people today.
Q: How do you feel about the US's reaction on 'Bajirao Mastani'?
A: I finally watched it two days ago. I am so glad Sanjay sir narrated the story the way he did. He portrayed Kashi (her character in the film) as a self-respecting woman whom history had chosen to forget. People in the US who have never seen a Hindi film have watched 'Bajirao Mastani. Some have also seen 'Barfi!' It's like introducing Hindi cinema to the West. It feels like a wonderful, cultural exchange program and I'm proud to be a big part of it.