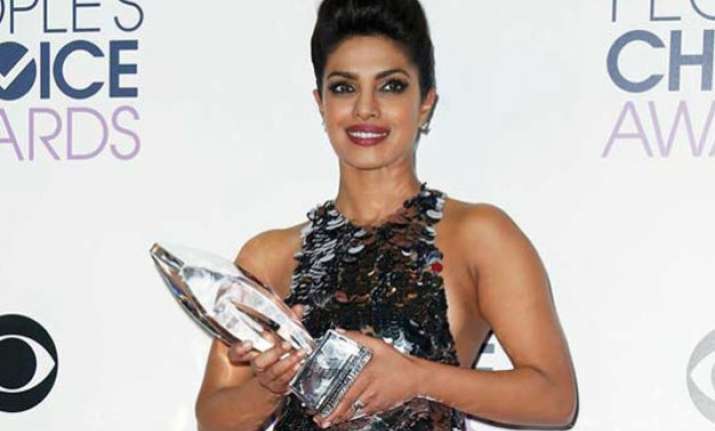 Los Angeles: Bollyood's desi girl Priyanka Chopra made everyone proud last night when she received an award at the People's Choice Award. Her 'thank you' speech at the ceremony was an emotional one, but perhaps a tad too long for Hollywood actor John Stamos, as he interrupted her speech in the middle.
Priyanka went on a thanking spree when she clinched the Favourite Actress in a New TV Series award, but her speech was cut short by Stamos when he quipped: "It's just a two-hour show."
It was a big moment for Priyanka on Wednesday night here as she was being awarded for her lead role in "Quantico", which marked her foray as an international actress.
"I'd like to thank everyone who voted for 'Quantico'. It is my first year in the US, and to come to another country and actually get this kind of acceptance is, I guess, what America is all about.
"So, thank you for accepting me, thank you to my mom, my manager, the cast and crew, the writer, ABC ... everyone. I'm really overwhelmed," she said.
It was then that Stamos, who himself took home the trophy for Favorite Actor in a New TV Series for his work in "Grandfathered", interrupted the actress in a lighter vein, saying "It's just a two-hour show". Then, they moved on to announcing other nominations.
After she bagged the leading role in 'Quantico', Priyanka was showered with appreciation from around India. Before this crime thriller series, she had released two singles, In My City with Will.I.Am and Exotica with Pitbull.
Priyanka, 33, was presented the award by Hollywood action star Vin Diesel, who will reportedly be working soon with Deepika Padukone in a new project. The shooting for the film is likely to start next month.
Watch the video here:
With inputs from agencies