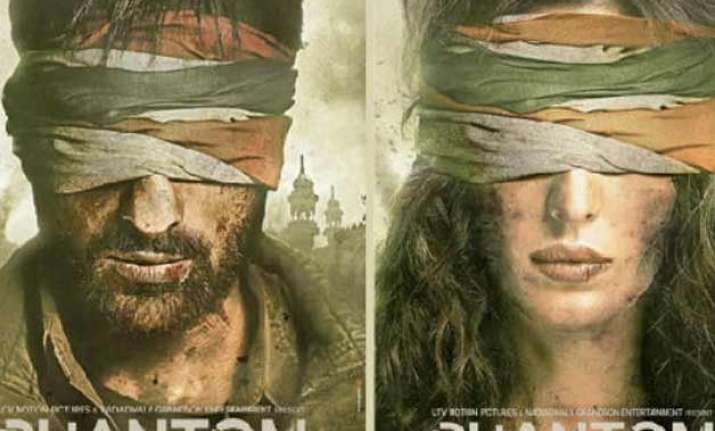 It's been long since anyone has created mayhem in Pakistan after Gadar. Phantom could be the poetic justice of director Kabir Khan to balance things off after his blockbuster Bajranigi Bhaijaan. While in Bajrangi, Sallu bhai goes to Pakistan with a message of peace, Saif is here to kill the masterminds of 26/11.
Gadar, with its high emotional overtone and over the top acting went on to become a blockbuster but Phantom neither has the emotional overtone of Gadar nor the star power that Sunny Deol wielded in the 90s.
Based on S Hussain Zaidi's best seller, Mumbai Avengers, Phantom is particularly based on 'an eye for an eye' theory which never really gets you on the edge of the seat.
Danyal Khan (Saif), a court martialled officer, is handpicked by RAW agents for a covert mission to eliminate the masterminds of the 26/11 Mumbai terror attacks. Danyal meets Nawaz Mistri (Katrina), an ex-Raw agent with all the right connections, in London.
Together they go to war torn Syria and have coffee in a restaurant after killing the Lashkar agents. The couple keeps the mission on despite the orders to abort it. Post interval, they wade into Pakistan to bring to justice the mastermind Haaris Sayeed which is very unconvincing given how easily Danyaal and Nawaz execute their plan despite being unknown to the people of Pakistan.
There is an interesting sub-plot in the film that highlights the plight of parents in Pakistan whose children are misguided by the terror groups.
Even though the film's heart is in the right place, the execution is miles away from satisfaction. The powerful story is weakened by too many cinematic liberties and there are many loopholes in the film, be it tepid screenplay, clumsy dialogues or awful acting of the lead pair.
Saif 's performance is passable; he is good in action scenes but unconvincing with his dialogues.  The viewers could have forgiven the director for every blunder but casting Katrina as an ex-RAW agent is unpardonable. Katrina's accented Urdu especially when she pronounces 'Jahannum' would be the unintentional lighter moment in this otherwise boring film.
The supporting cast of Sabyaschi Mukherjee and Zeshan Ayyub were underutilised; they mostly sit and argue in a threadbare RAW office full of yanked files.  Zeshan's role of an overexcited intelligence officer who revels in joy everytime Danyal kills enemies does not ring a bell.
By the end of the film, you will realise that this is certainly not the right plan to avenge the 26/11 attack.