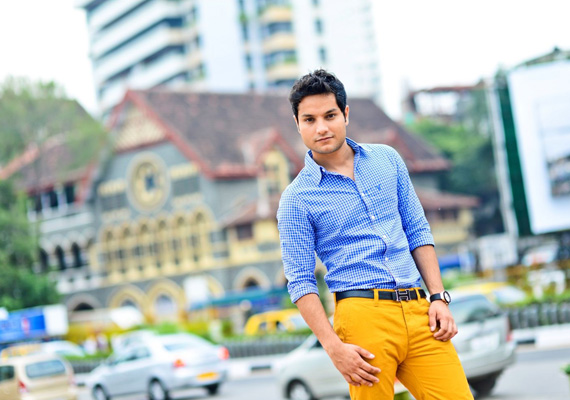 Dubai, Dec 17: It was a launch a newcomer would only dream of. And the dream came true for singer Aaryan, who was introduced to the world through father-daughter duo of filmmakers Mahesh and Pooja Bhatt here.
Aaryan's first music video called "Ranjhann" was uploaded online a few weeks ago. It attracted as many as 5 million views. The singer's melodious voice caught the attention of Dubai-based Indian businessman Shiraz Gidwani, who decided to launch the fresh talent.
The 25-year-old Indore boy was introduced through a grand celebration at the Burj Khalifa here.
"I like his innocence. The YouTube video of Aaryan's song was uploaded the same day when
Salman Khan
's 'Dabangg 2' song 'Dagabaaz re' was released. And Aaryan's song managed to get around 5.3 million hits, which is commendable," said Pooja.
Pooja, who is mesmerized by Aaryan's voice, has already decided to take one of his songs in her next film.
"I have already requested Aaryan to give me one of his songs for my next film. It's such a beautiful song," said the actress-turned-director.
Aryan says a launchpad like this is a dream come true for him. The singer seemed nervous, but still managed to mesermerise the audience with his songs during his performance.
"Honestly, I was very nervous on stage. This was such a huge launch for me, it's like a dream come true. For me music is my passion, which has got me here and thanks to bhaiya (Shiraz Gidwani), who believed in me and thanks to Mahesh and Pooja Bhatt, who are here for me," Aaryan told IANS.
Aaryan has trained under music composer duo Sajid-Wajid's father Ustad Sharafat Ali Khan.
"I have trained under him. Even Sajid-Wajid were often there to help me whenever I needed them. It was an amazing experience and I got an opportunity to learn so much from them," said Aaryan, who can also play guitar, harmonium and piano.
Asked if he is open to singing in Bollywood, Aaryan said: "I have kept myself open for everything. I have not restricted myself to anything."