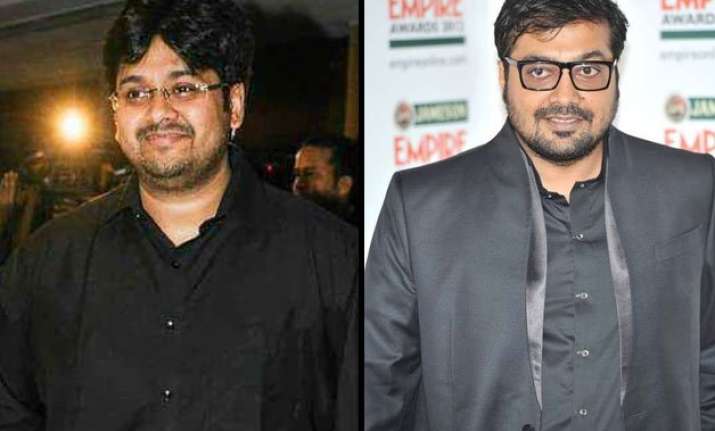 New Delhi: Anurag Kashyap who is on a promotional spree these days for his production 'Hunterrr', set to release next week, has remarked something that hasn't gone down well with the sex-comedy director Milap Zaveri.
 
Kashyap, in an interview to Bollywood Hungama when asked about other sex-comedy films like 'Masti', he replied saying, "No I don't like Masti, and I won't watch it also. I wouldn't watch it on cable or for free, not even if someone paid me 5 crore."
 
This irked Zaveri, who co-wrote Grand Masti, so badly that he took him on social networking platform and slammed him with his nasty tweets.
 
For both Masti and its sequel Grand Masti it was said that you may love it or hate it but definitely can't ignore it. As a result, both of them were commercially successful while Kashyap's movies have mostly found a niche audience that fails to keep the cash registers ringing for long.
 
Zaveri in his first tweet wrote, "Anurag Kashyap says if someone gives him 5 cr also he won't see #Masti or #GrandMasti Maybe that's why most of his films don't do even 5cr!"
 
The director also taunts him saying soon Kashyap would realize that the two movies he has criticized are 'baap' of sex comedies once his 'Hunterrr' drowns at box office.
 
"Jab box office Aapke pichwaade pe "hunterrr" maarega na tab pata chalega ki sex comedy mein #Masti aur #GrandMasti Aapke baap lagte hain!"
 
Milap further in his next tweets asked Kashyap to learn from Mohit Suri how to express in a civil manner rather that using derogatory remark.
 
"I respect @mohit11481 who On directors round table with @RajeevMasand said #GrandMasti was his fav film that year. Bravo! Learn Mr Kashyap", he tweeted.
 
Zaveri added further, "Everyone has a right to not like something. But that dislike can be expressed in a civil manner without being derogatory Mr Kashyap"
 
Not only this, the 'Grand Masti' writer went on to call Kashyap a double standard.
 
"Anurag made these tacky remarks about #GrandMasti while promoting his own sex com #Hunterrr How's that for double standards?", he quoted on his Twitter account.
 
Well, till now there has been no response to this by Anurag's side but often he has been of the view that his remarks are misinterpreted or misquoted to make sensational headlines.