Follow us on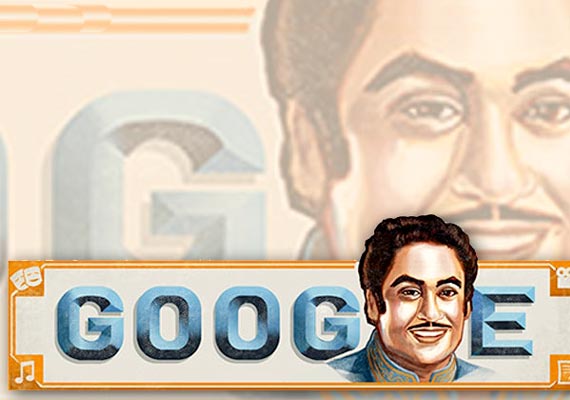 It's Indian cinema's legendary singer Kishore Kumar's 85th birthday anniversary and the search engine giant Google has come up with a classic Google doodle on Kishore Da.
Born on August 4, 1929 in Madhya Pradesh, Kishore Kumar has been known for his invaluable contribution to the music industry. Despite not having any formal training in music, Kishore Kumar is called 'king of romantic songs'.
The Google doodle on Kishore Da is just appropriate; it shows all the shades of this legendary singer's life. The doodle is simple with the letters Google placed along with the smiling Kishore Kumar.
The doodle has been planned with great detailing, as if you pay a little more attention, you will seen four symbols that represent four elements of multifaceted personality Kishore Kumar. 
Two happy and sad masks denoting acting has been placed on the extreme top left of the doodle, a video camera symbol has been shown on the top right side of the doodle.
The third symbol is of musical notes, which has been placed below the masks and the fourth and last symbol of notepad and pen reflects Kishore Kumar as writer, which is placed below the video camera icon. You click on it and it will take you to the Kishore Kumar search engine page that shows you all the information about this lovely singer. 
 Kishore Kumar has not only been remembered for his acting, writing, direction or singing but also for his fun loving and jolly nature.
He sung for the all the leading heroes of their times, such as
Amitabh Bachchan
, Dharmendra, Jeetendra, Sanjeev Kumar, Vinod Khanna, Dilip Kumar, Randhir Kapoor, Rishi Kapoor, Dev Anand, Chunky Pandey, Kumar Gaurav, Govinda and Jackie Shroff. 
Though he passed away in 1987, but he is still alive in the hearts of his fans through his stupendous music, that is being used and heard even today!