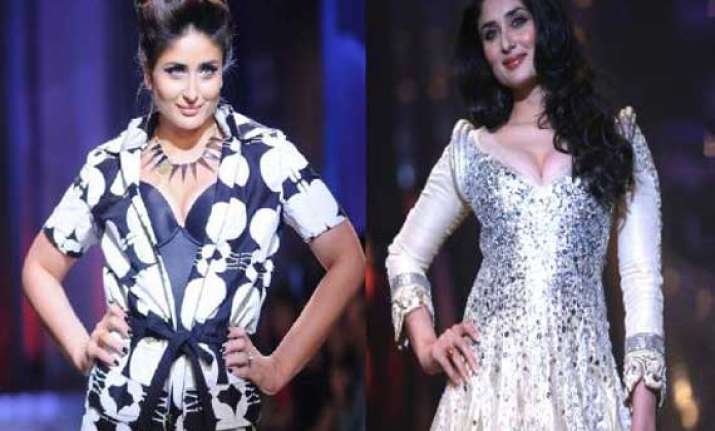 Mumbai,Feb 27:Actress Kareena Kapoor will be walking the ramp for Lakme Fashion Week Summer/ Resort 2013 which kick starts from March 22.
Kareena will be the show stopper for the grand finale which will be presented by designer Namrata Joshipura. Last year too Kareena had walked the ramp for grand finale designers - Kallol Dutta and Pankaj and Nidhi.
"Yes this year too Kareena, being the brand ambassador of Lakme, will be walking the ramp for the finale. She is quite excited about it. We hope she would have some time from her busy schedule," Purnima Lamba, Head Innovations, said.
On if Kareena's husband Saif too will be present this year, Purnima said, "I think as Saif is busy with his shoots, he might come to admire her. Since the show is more to do with women, he might not walk the ramp and just be present there."
Namrata, excited about her show, said, "I am really looking forward for the finale. I am quite happy to showcase my collection, which will be a blend of contemporary and modern."
"I had an interaction with Kareena but my focus would be to keep her look quite to the essence of the show - which is contemporary modern," she said.
The Lakme Fashion Week Summer/ Resort 2013 will be held at a suburban five star hotel from March 22 to 26 where a total of 87 designers will present their collection.
Designer Tarun Tahiliani will open the LFW Summer Resort 2013 with a grand off site show on March 21.
Renowned designers including Vikram Phadnis, Manish Malhotra, Nishika Lulla, Rocky S, Masaba, Gaurang Shah, Swapnil Shinde, Bhairavi Jaikishan will showcase their work.
Also, this season LFW has come up with a unique cause which will be showcased by designer Vikram Phadnis. Phadnis's show will speak about rural India Swadesh.
"Swadesh is here to change the attitude of rural India, which is not about bullock carts and wells but there is a lot more to it. I have visited quite a few villages in Maharashtra. I can't talk much. All I can assure you is that it will be something unexpected," Vikram said.
On if any celebrity will be walking the ramp for him, he neither confirmed nor denied saying, "you all will be surprised and I think one will miss a lot if they miss my show this season."